School focused on Aboriginal music opens
RUSH TO OPEN: Vox Nativa has hired nearly as many teachers as students, because the rules say high schools must offer Chinese, English and math classes
The nation's first experimental high school with a focus on teaching Aboriginal music opened in New Taipei City yesterday.
Vox Nativa, the organization behind the school's development, said it hopes the school will help elevate the status of Aboriginal music and bring new opportunities to people in or around Nantou County's Sinyi Township (信義), where the group originated.
The organization in 2008 opened its first music school for young Aborigines.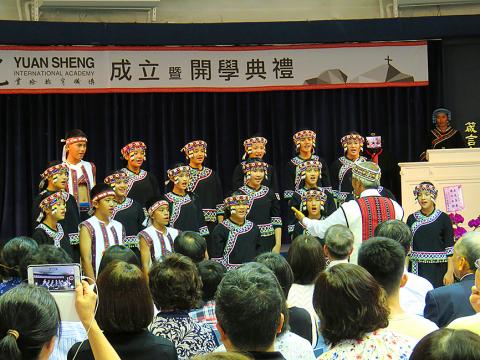 The Vox Nativa Choir performs yesterday at a joint founding and inauguration ceremony for Yuan Sheng International Academy, a new experimental high school in New Taipei City specializing in Aboriginal music.
Photo: Chen Hsin-yu, Taipei Times
Vox Nativa was born out of a project to provide music education to the county's Aboriginal youth envisioned by Sinyi Elementary School principal Bukut Tasualuam of the Bunun people and retired teacher Liao A-kuan (廖阿貫).
The group started by forming a youth choir with students at the elementary school.
They aimed to "let the world hear Jade Mountain sing," Liao said.
The choir practiced on weekends and used dormitories at Luona and Tumpu elementary schools in Sinyi to house students, who were chosen from among the township's more outstanding students, she said.
In addition to providing music education, the choir assisted students with Chinese, English, mathematics and social science studies.
Ten years after its founding, the group has been dubbed "Taiwan's Vienna choir" and has received international recognition.
However, members of the original choir are now at university and many have moved away, some even turning their backs on their community, Liao said.
The establishment of an experimental high school will give the organization more flexibility and help with resources, she said.
After Christ's College Taipei agreed to lend dormitories to Vox Nativa — also a Christian organization — the group finalized plans to establish the high school in New Taipei City, near the college, Liao said, adding that they rushed to have the school open in time to accept graduating junior-high school students.
The school on Monday last week received permission to operate.
Vox Nativa president Chiu Yuan-mei (邱媛美) said its first 10 students are from Nantou and they pay NT$5,000 in tuition per quarter. That fee covers textbooks and dormitory accommodation, Chiu said.
The school has so far hired nearly as many teachers as students, she said, citing regulations that high schools must offer Chinese, English and math, on top of its own requirements for music theory teachers.
The majority of funding comes from donations, Chiu said.
The school hopes to one day accept Aboriginal students from other countries and plans to produce a national-level choir, she said.
However, ultimately the school aims to foster confidence among young Aborigines, encourage them to serve their communities, and help end alcoholism and other problems that plague their communities, she said.
Comments will be moderated. Keep comments relevant to the article. Remarks containing abusive and obscene language, personal attacks of any kind or promotion will be removed and the user banned. Final decision will be at the discretion of the Taipei Times.