Wu blasts DPP, hails Ma at congress
BASEBALL THEME: Several gruesome murders this year accurately reflect the nation's morale under Tsai Ing-wen, the KMT chairman said at the party's National Congress
The Chinese Nationalist Party (KMT) at its national congress in New Taipei City yesterday vowed to "hit a home run" in the Nov. 24 nine-in-one elections.
KMT Chairman Wu Duen-yih (吳敦義), and former party chairs including former vice president Lien Chan (連戰), former president Ma Ying-jeou (馬英九), former Taipei mayor Wu Poh-hsiung (吳伯雄), New Taipei Mayor Eric Chu (朱立倫) and former legislator Hung Hsiu-chu (洪秀柱) attended the convention, which was held to unite party members and boost the party's momentum at the start of the campaign season.
Baseball was the theme of the convention, with Wu as the "main coach" and candidates for mayoral and commissioner seats as baseball players. Wu and the candidates posed as if they were ready to swing their bats to "hit a home run" and threw a baseball to symbolize striking out the opponent.
Chinese Nationalist Party (KMT) Chairman Wu Den-yih, left of ball holding a bat, KMT Vice Chairman Hau Lung-bin, right of ball holding a bat, and others cheer at the closing of the party's national congress in New Taipei City's Banciao District yesterday.
Photo: Fang Pin-chao, Taipei Times
Wu in an address summed up the nation's accomplishments during Ma's presidency.
Taiwan's global ranking for government efficiency has slid over the past two years, Wu said, adding that it shows the KMT is better at managing the economy.
"During the Ma administration, society was harmonious and the economy was stable. By contrast, bananas and pineapples are now piled up because farmers have a hard time selling their produce, as do owners of milkfish farms," Wu said.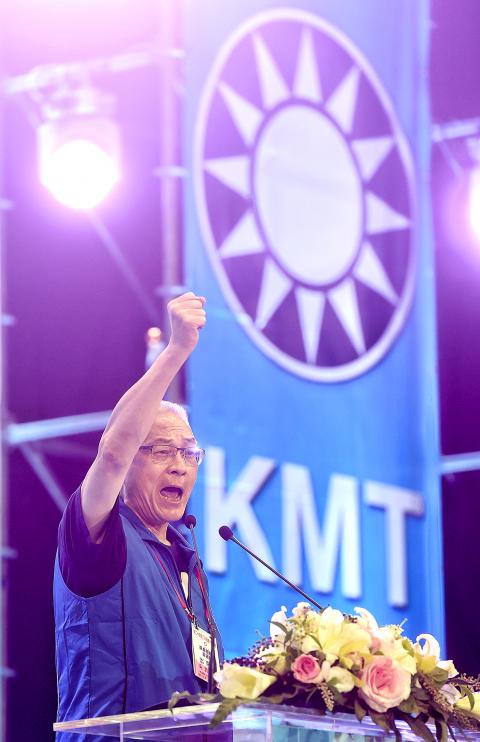 Chinese Nationalist Party (KMT) Chairman Wu Den-yih delivers the closing address at the party's national congress in New Taipei City's Banciao District yesterday.
Photo: Chien Jung-fong, Taipei Times
"The tourism industry has also been hit hard and entrepreneurs around Sun Moon Lake, Hualien County and the Alishan National Scenic Area have been earning less than half of what they used to make," Wu told the convention.
Taiwan was trusted and popular around the world under Ma, Wu said, adding that 164 countries had waived tourist visas for Taiwanese travelers by the time Ma finished his second term as president.
Only 54 countries had waived tourism visas for Taiwanese by the end of Chen Shui-bian's (陳水扁) presidency, he added.
Wu cited several murder cases in which victims were dismembered as signs of a rising crime rate, saying that they showed how the Democratic Progressive Party (DPP) government has affected the society's morale.
President Tsai Ing-wen's (蔡英文) administration has also failed to communicate with people affected by pension reforms, he said, adding that Taiwan has seen its lowest GDP growth since Tsai took office.
Taiwan and China have stopped communicating with one another since Tsai took office in 2016, and the "1992 consensus" is the path to resuming relations, Wu said.
The so-called "1992 consensus," a term former Mainland Affairs Council chairman Su Chi (蘇起) in 2006 admitted making up in 2000, refers to a tacit understanding between the KMT and the Chinese government that both sides of the Strait acknowledge there is "one China," with each side having its own interpretation of what "China" means.
Wu also criticized the new 12-year national education curriculum guidelines for history textbooks, which failed to gather more than 50 percent of the review committee's support.
Adjusting history textbooks as proposed would be illegitimate, Wu said, adding that "Chinese culture is our common ideal and dream."
All of the party's 22 mayoral and county commissioner hopefuls are strong candidates, and love Taiwan and its people, Wu said.
If elected, the KMT would build an efficient and decent government, create a booming economy that benefits all, and build a harmonious society and peaceful cross-strait relations, he said.
Comments will be moderated. Keep comments relevant to the article. Remarks containing abusive and obscene language, personal attacks of any kind or promotion will be removed and the user banned. Final decision will be at the discretion of the Taipei Times.