Future of dependent villages decided
FIGHTING THE SYSTEM: Gonghe New Village residents said the government was still trying to push them out, despite 41 buildings receiving cultural heritage status
The fate of two veteran dependents' villages in Pingtung County's Donggang Township (東港) were decided on Friday last week, with the demolition of Dapeng New Village (大鵬) to proceed as planned, while 41 buildings in Gonghe New Village (共和), which were built during the Japanese colonial era, were given cultural heritage status.
The two villages were slated for demolition and reconstruction, but Gonghe villagers alleged that there were procedural flaws and potential illegalities in the reconstruction project, and nearly 30 residents have refused to move into the apartment building built for them, the county government said.
The Control Yuan has issued a corrective measure against the Ministry of National Defense due to its handling of the reconstruction project, the county said.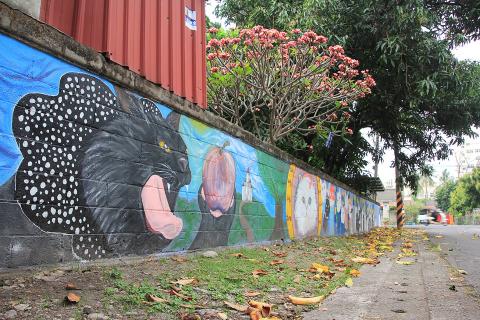 A mural at Gonghe New Village in Pingtung County's Donggang Township is pictured on Tuesday. Houses in the village, which were built during the Japanese colonial era, were used to house military dependents after the Chinese Nationalist government fled to Taiwan.
Photo: Chen Yen-ting, Taipei Times
The buildings in Dapeng do not qualify as heritage sites, the Pingtung Cultural Assets Review Committee said, adding that the 41 buildings in Gonghe include 17 buildings that are more than 50 years old and 24 for which owners have received approval to be listed as historical buildings.
The county government is mulling repurposing the buildings, using Chongjen New Village (崇仁) or the dependents' village in Kaohsiung as examples, as new residents were moved into those buildings instead of the government having to maintain empty houses, the county said.
The ministry this month outsourced the demolition projects for Dapeng and Gonghe.
However, the county government said it is still in talks with the ministry to prioritize the demolition of empty houses, as they are potential dengue fever outbreak spots.
Gonghe residents said that having the buildings listed as cultural assets was still an attempt to drive them out.
"A cultural heritage site should cover an entire cultural entity, which includes residents who have lived on a site for many years; it should not just refer to buildings," resident Wang Li-hao (王立皓) said.
They would fight for the right to spend their entire lives in the original buildings, Wang said.
Comments will be moderated. Keep comments relevant to the article. Remarks containing abusive and obscene language, personal attacks of any kind or promotion will be removed and the user banned. Final decision will be at the discretion of the Taipei Times.