Legislator defies party, runs for Hsinchu office
Chinese Nationalist Party (KMT) Legislator Lin Wei-chou (林為洲) yesterday announced that he would join the Hsinchu County commissioner election, after the KMT last month bypassed an opinion poll and nominated Hsinchu Deputy Commissioner Yang Wen-ke (楊文科).
Lin told a news conference at the Legislative Yuan in Taipei that the vast majority of Hsinchu residents he had spoken with over the past month said that they would vote for him if he ran for county commissioner, or they would vote for "the candidate of another party."
Lin asked whether KMT headquarters' decision could lead the party to victory in the Hsinchu election, saying that he last month conducted an own opinion poll that showed he had the highest support rating among candidates nominated by the KMT and other parties.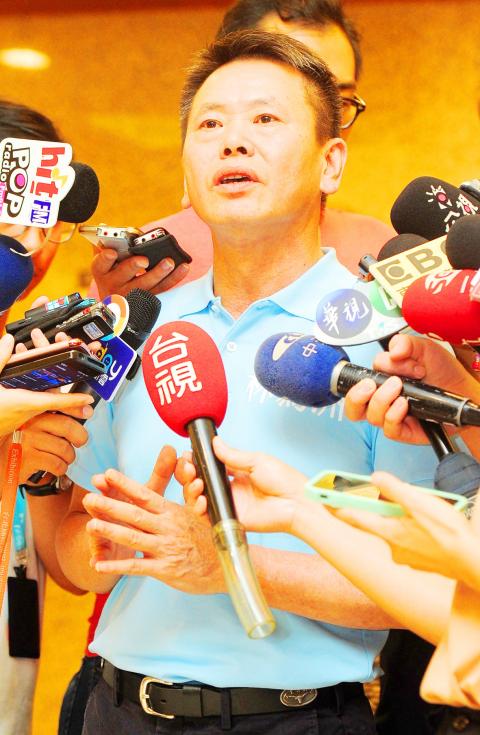 Chinese Nationalist Party (KMT) Legislator Lin Wei-chou in Taipei yesterday announces his intention to run for Hsinchu County commissioner, despite his party's nomination of Hsinchu Deputy Commissioner Yang Wen-ke.
Photo: Wang Yi-sung, Taipei Times
Lin said he has since waited for KMT headquarters to heed the poll and contact him, but it has not, nor has it shown any regret for "breaching the [party's] system," adding that this prompted him to run.
Asked by reporters whether he was worried about being expelled from the KMT for breaking ranks, Lin said that he would "reap what I sowed."
However, Lin said that he hoped he could remain in the KMT legislative caucus in the run-up to the election to continue working with his colleagues and supervising the Democratic Progressive Party.
Lin said that former president Ma Ying-jeou (馬英九), former KMT chairwoman Hung Hsiu-chu (洪秀柱) and former KMT chairman Eric Chu (朱立倫) have openly supported his calls for the KMT to hold a primary for the Hsinchu County commissioner election like it did in the previous election.
He added that members of the KMT Central Standing Committee, which is presided over by KMT Chairman Wu Den-yih (吳敦義), have failed to convince other party members or the public with their decision not to nominate him.
"Such a team should step down as soon as possible," Lin said.
Asked if there was still any room for communication between him and Wu, Lin said that not only did the KMT chairman never intend to communicate with him, he had attacked his character.
"My parents saw on TV when Chairman Wu said: 'You guys should check Lin Wei-chou's records' and wondered: 'What has our child done?'" Lin said, referring to a remark by Wu during a committee meeting at which he approved Yang's nomination.
"What kind of boss is he? All of my efforts as a KMT member have been discredited," he said.
Asked if Wu should bear the greatest responsibility for the decision, Lin said that according to the media the decision was made after United Microelectronics Corp honorary deputy chairman John Hsuan (宣明智) visited Wu, and the rest has played out as the media had reported.
Asked if he would return to the KMT if he was ousted, Lin said that was not a decision for him to make, as the party's rules stipulate that an expelled member cannot rejoin for six years.
As of press time last night, KMT headquarters had not responded to Lin's announcement.
Comments will be moderated. Keep comments relevant to the article. Remarks containing abusive and obscene language, personal attacks of any kind or promotion will be removed and the user banned. Final decision will be at the discretion of the Taipei Times.