INTERVIEW: Lack of FTA no bar to cooperation, Thai representative says
It is unlikely that Thailand will offer reciprocal visa-free treatment to Taiwanese, but the Thailand Trade and Economic Office will provide a more convenient, outsourced visa application service starting in September, office Executive Director Thongchai Chasawath said in an interview with 'Taipei Times' reporter Stacy Hsu and 'Liberty Times' reporter Lu Yi-hsuan
Taiwan's lack of free-trade agreements (FTA) with several Southeast Asian countries, including Thailand, has been seen as a challenge for President Tsai Ing-wen's (蔡英文) New Southbound Policy. What do you think could be done to facilitate the signing of an FTA between Taiwan and Thailand?
Thongchai Chasawath: This matter concerns many political factors, so it is a bit tricky for us to sign an FTA with Taiwan. That does not only go for Thailand; you also face a similar problem with many other countries.
So what should we do? There are actually many other things that we can do. We should not limit our ideas to a fixed framework or box.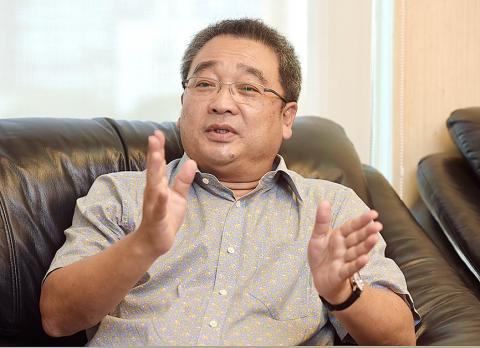 Thailand Trade and Economic Office Executive Director Thongchai Chasawath gestures during an interview on Wednesday.
Photo: Huang Yao-cheng, Taipei Times
Despite the lack of an FTA with us, Taiwan can still take advantage of the platform provided by APEC or invest in Thailand. If you think it is beneficial to you, you can also consider offering one-way incentives.
Why hold back from this option simply because Thailand cannot offer you the same thing in return? There should be some flexibility.
Taiwan recently extended its trial period of visa-free privileges for Thai nationals for another year. Your predecessor last year indicated that there was a possibility of a reciprocal measure. What is the latest development?
Chasawath: Many people have asked me about this, but we have our considerations. To be honest, Taiwan is also benefiting from its measure to grant Thai citizens visa-free entry.
You must have come to that decision after realizing the potential benefits. If that is the case, why make Thailand offer reciprocal treatment? Why [say that] the visa-free arrangement could be canceled next year if we do not? If you cancel it, the number of Thai tourists to Taiwan could plummet by 150,000.
You should simply do what you think is best for your people and there is no need to ask for reciprocity.
The same is the case in Thailand: We offer visa-free privileges to more than 70 nations, while our own people enjoy visa-free entry to just more than 30 countries, but we do not make a fuss about this.
Another thing I want to point out is that the provision of visa-free privileges will inevitably have some downsides, such as illegal immigrants and undocumented workers. However, those only account for a fraction of the whole and we should avoid giving up the entire forest just for one tree.
Is Thailand mulling offering alternative visa privileges to Taiwanese?
Chasawath: Taiwanese can expect a huge change in the application process for Thai visas in September.
Starting in early or mid-September, while the application times at my office will remain the same, we will begin outsourcing the work to a private firm. The firm is to set up service centers in Taipei and Kaohsiung, where they will accept applications from 9am to 5pm.
They will charge a service fee of about NT$400 to NT$500 per case, but it is certainly better than taking a leave of absence to come down here [to the Thailand Trade and Economic Office] and waiting in line for hours.
We are also going digital. The firm to which we are outsourcing the process is also building a system, that is expected to be ready by the end of this year, but I am hoping for September. The system will allow applicants to fill out their applications online and then mail their passports to us. They will also be able to track the location of their passport and the status of their application.
You assumed the post in Taipei in April. Could you tell us a bit about your background?
Chasawath: I started learning Mandarin in college and I was posted to China for 12 years.
I actually requested the posting to Taiwan. One of the reasons was that I believed Taiwan would be an interesting place to work in, given the longstanding relationship between Taiwan and Thailand.
Also, Taiwan is further than Thailand in its development, so it would be nice to come here and see what we can learn from Taiwan. At the same time, there are also issues where our Taiwanese friends can benefit from Thailand's experiences.
Take the tourism industry, for example: your convenient public transportation system and all-in-one travel cards, something Thailand has yet to have.
I have told many high-level Taiwanese officials that Taiwan is also a food paradise and they should promote it as one of your strong suits.
In my "outside in" view, air travel could be another one of Taiwan's strong suits, considering its important geographical location. This is probably an advantage that we share. Thailand is the most suitable transit hub between Europe and Asia and I think Taiwan can be an extremely convenient hub between Asia and the US.
In what other areas could Taiwan and Thailand learn from each other?
Chasawath: I think agricultural technology is another area. For example, although Thailand and Taiwan do not produce exactly the same kinds of fruits, I would say that 70 percent of them are identical. We also both produce rice, albeit different varieties.
Taiwan has been doing well in the area of [agricultural] technology development, especially technologies used for preservation, which is something that Thailand really needs.
We can also have exchanges on the livestock industry. Taiwan has a clear policy direction regarding this industry, while Thailand needs to make some changes.
For instance, the meat quality of the cattle we rear can hardly compete with that of Australian or Japanese cattle. So when we try to sell our meat to them, the wealthy do not buy it, because they are after the prime cuts, and the less well-off also do not buy it, because they still consider it too expensive.
Taiwanese know about this and you came up with something called "warm beef" (溫體牛) [beef from Taiwanese cattle served on the day of slaughter, with the meat still warm from the cow's natural body temperature]. This kind of flexible adjustment is something that we should learn from.
What are your goals for Taiwan-Thailand ties?
Chasawath: We should further promote our ties and enhance our mutual understanding of each other. We should not let certain factors drive us apart. We should also focus on the big picture, while exploring ways to bring people on both sides closer together and forging closer interactions in all areas.
However, words alone are ideological, so we must walk the talk. It is not difficult to realize these ideas, but we must learn to let certain things slide in the process.
Sometimes we tend to focus on our expenses and forget that we are also making money.
Comments will be moderated. Keep comments relevant to the article. Remarks containing abusive and obscene language, personal attacks of any kind or promotion will be removed and the user banned. Final decision will be at the discretion of the Taipei Times.