Indictment politically motivated: Ma
UNDERSELLING? Ma Ying-jeou cited the sale of CTV shares to Jungli Investment Co for NT$892.5 million, even though they had a book value of about NT$700 million
Former president Ma Ying-jeou (馬英九) yesterday said that the Taipei District Prosecutors' Office was "following orders" when it decided to indict him and reassured the Chinese Nationalist Party's (KMT) Central Standing Committee that he did not undersell the party's assets when he was party chairman.
Ma was invited by KMT Chairman Wu Den-yih (吳敦義) to address the committee regarding his sales of Central Motion Picture Corp, Broadcasting Corp of China and China Television Co (CTV).
Although the KMT on Saturday last week said in a news release that the invitation was extended as a demonstration of the party's belief in Ma's integrity, Wu yesterday said that the party was "not trying to fight a certain government agency, nor endorsing a specific individual."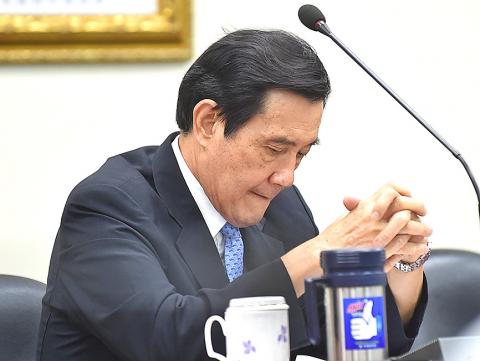 Former president Ma Ying-jeou proclaims his innocence during a speech at a Chinese Nationalist Party (KMT) Central Standing Committee meeting at party headquarters in Taipei yesterday.
Photo: Liu Hsin-de, Taipei Times
"We are simply hoping to examine the appropriateness of Ma's handling of the companies' sales through a fair and objective lens," Wu said, adding that Ma, as a former KMT chairman, deserved a chance to explain his side of the story.
Ma on Tuesday last week was charged with breach of trust and contraventions of the Securities and Exchange Act (證券交易法) for his role in the KMT's sales of several party assets in 2005 and 2006, including the three companies.
The two people who managed the KMT's finances used an elaborate financial scheme, which Ma approved, that enabled the party to sell the media companies and other assets at below-market prices, which caused the KMT to lose NT$7.29 billion (US$238.38 million at the current exchange rate), the indictment said.
"I take full responsibility for what I say and I can assure each and every committee member that I did not undersell KMT assets when I was the party chairman," Ma said. "Every decision was made based on my judgement of what was best for the party."
Ma said the sales had already been scrutinized by the now-defunct Special Investigation Division, which cleared the case of any wrongdoings after an eight-year probe that questioned nearly 100 people.
That the case was reopened after the Democratic Progressive Party administration took office in 2016 and that he has been indicted reeks of political intervention, Ma said.
"I believe people's eyes are sharp and they can know whether the prosecutors' office was following orders when it decided to indict me," he said.
Citing as an example the sale of KMT-run Hua Hsia Investment Holding Co's shares in CTV to Jungli Investment Co, a subsidiary of what is now known as the Want Want China Times Group, Ma said that Jungli paid NT$892.5 million for the shares, which had a book value of about NT$700 million at the time.
"How could you call it underselling when the party sold the shares of a media company that had been in the red for years at a price that was higher than its book value?" Ma asked.
Comments will be moderated. Keep comments relevant to the article. Remarks containing abusive and obscene language, personal attacks of any kind or promotion will be removed and the user banned. Final decision will be at the discretion of the Taipei Times.