Local Elections: KMT launches campaign Web site
The Chinese Nationalist Party (KMT) yesterday launched a Web site for the party's candidates in November's nine-in-one local elections that allows the public to make donations and access election-related information.
The Web site (https://kmt2018.com/index.asp) has pages dedicated to each KMT candidate at every level of the local elections where visitors can read about the candidate's credentials, achievements, campaign slogans and policy platform.
The pages also contain information about the candidates' bank accounts dedicated to donations, as well as links to their social network pages.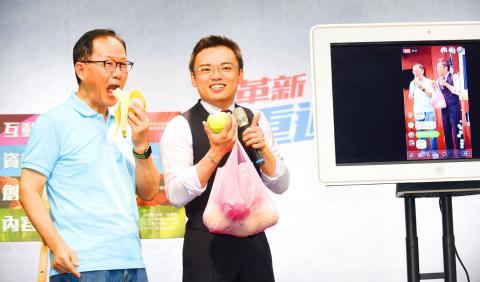 Chinese Nationalist Party (KMT) Taipei City mayoral candidate Ting Shou-chung, left, and KMT Culture and Communications Committee deputy director-general Hung Meng-kai eat locally grown fruit at a news conference in Taipei yesterday.
Photo: Liu Hsin-de, Taipei Times
"There are nearly 1,000 candidates in the nine-in-one elections and each candidate has their own campaign policies," KMT Culture and Communications Committee deputy director-general Hung Meng-kai (洪孟楷) said.
"That is why we built this Web site to put all the information on one platform, so that voters can easily access them and make a sound decision at the ballot box," Hung said, adding that the candidates provided the content about themselves for the Web site.
The home page includes a widget that allows visitors to monitor the weather condition, the PM2.5 level — fine particulate matter measuring 2.5 micrometers or smaller — and the power supply level for the city or county they live in, Hung added.
The information corresponds with the KMT's referendum proposals against air pollution and a plan to build a coal-fired plant on the site of the old Shenao Power Plant (深澳電廠) in New Taipei City, Hung said.
KMT Taipei mayoral candidate Ting Shou-chung (丁守中) said the candidates are grateful to the KMT headquarters for building the Web site, despite limited funds.
"The local elections are overshadowed by unequal resources. The Democratic Progressive Party has the advantage of being the ruling party and has access to the central government's colossal budgets," Ting said.
"There is no way we can compete with that," he said.
Comments will be moderated. Keep comments relevant to the article. Remarks containing abusive and obscene language, personal attacks of any kind or promotion will be removed and the user banned. Final decision will be at the discretion of the Taipei Times.