Students say 270,000 are 'forced' to rent off-campus
Student groups yesterday called on the Ministry of Education to ensure fair access to housing for 270,000 students they said would be forced to rent off-campus because they were unable to obtain a room in university dormitories.
The call came in the wake of the Da Chiun Building (大群館) controversy. The building is owned by Yoyu Co Ltd (又昱實業有限公司), which is 96 percent owned by the wife of Chinese Nationalist Party (KMT) New Taipei City mayoral candidate Hou You-yi (侯友宜), and has been in been in use by Chinese Culture University (CCU) as a student dorm.
The Taipei Department of Urban Development earlier this month said that the building contravenes local zoning laws.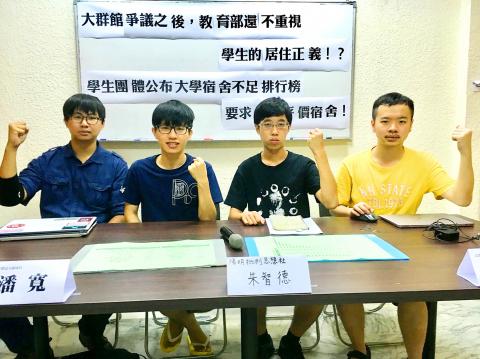 Members of the Youth Action committee of the Higher Education Labor Union and other student organizations attend a news conference yesterday as they call on the Ministry of Education to ensure fair access to housing for 270,000 students forced to find accommodation off-campus because they were unable to obtain a room in university dormitories.
Photo: Lin Hsiao-yun, Taipei Times
University students that had already obtained a room in the building are facing potential expulsion and have had to start looking for possible rental options.
Statistics show that among the six special municipalities, Taichung has the highest bed shortage at 67,305 beds, followed by Tainan with 38,462, Kaohsiung with 26,986, Taipei with 25,989 and New Taipei City with 14,027 beds, the Taiwan High Education Union told a news conference in Taipei yesterday.
Union member Su Tzu-hsuan (蘇子軒) was critical of the education ministry, stating that it turned a blind eye to students' right to room and board.
Universities are also to blame, as they have not increased their spending on housing, despite enrollment increasing for more than two decades, Su added.
Student representatives presented examples.
Taipei Medical University has 800 beds available for 6,000 students, while the average price for a room off-campus stands at NT$7,500 per month, student representative Pan Kuan (潘寬) said.
Speaking on behalf of CCU students, Yangming University critical thought student Chu Chih-te (朱智德) said that CCU must resolve its shortage of dormitory space.
Negotiations with the Hwa Kang Xing Ye Foundation, the owner of the Da Jhong Building (大忠館), that the school plans to repurpose into a dormitory, have stalled, Chu said
As the foundation's president is also a member of CCU's board of directors, the university should resume talks with the foundation to replace the Da Chiun Building dorms, which have long been controversial, Chu said.
Tamkang University student Hsieh Yi-hung (謝毅宏) cited education ministry statistics as saying that 9,400 students from the school rented apartments off-campus, adding that their safety is not guaranteed.
Off-campus rentals are subject to uncertainty and there have often been safety issues, such as in 2014, when a student from Hong Kong was killed in a fire, Hsieh said, adding that they are also much more expensive than school dormitories.
Some apartments offer 4 ping (13m2) rooms and have 10 rooms per floor, Hsieh said.
Ministry data show that 320,000 beds are available at universities and 300,000 students can apply each year, but averages do not reflect conditions at individual universities, Department of Higher Education Director-General Chu Chun-chang (朱俊彰) said.
The ministry would talk to universities about possible solutions, he added.
Draft proposals, including repurposing buildings on campus or unused buildings at nearby elementary schools and junior-high schools, would be published within a month after consultation with local governments and interagency deliberation, Chu said.
Comments will be moderated. Keep comments relevant to the article. Remarks containing abusive and obscene language, personal attacks of any kind or promotion will be removed and the user banned. Final decision will be at the discretion of the Taipei Times.