Labor ministry aims to ban age discrimination
WORKFORCE STRATEGY: The draft act would require employers to bear the burden of proof and they would have their name published and be fined if found guilty
To encourage older people to rejoin the workforce, the Ministry of Labor yesterday issued a draft act banning age discrimination in the workplace, under which employers who are found guilty could be fined NT$300,000 to NT$1.6 million (US$9,823 to US$52,387).
According to government statistics, Taiwan is categorized as an aged society, with one in every seven people being an elderly person.
Taiwan's working population — those aged 15 to 64 — has been steadily decreasing, from 17.368 million in 2015 to 17.211 million last year, the ministry said, adding that there are fewer middle-aged and older people in the labor force than in Japan, South Korea and the US.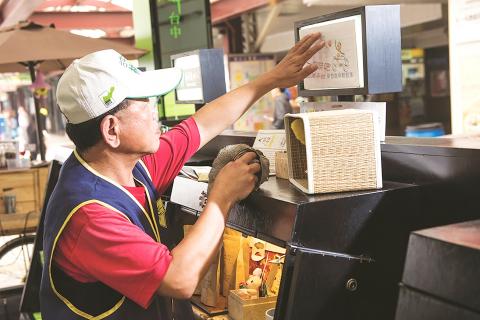 A worker cleans a counter in a shop in Taichung on Nov. 27 last year.
Photo courtesy of the Taichung City Government Labor Affairs Bureau
"Reinvigorating the nation's middle-aged and elderly labor force is an important and pressing issue," the ministry said.
Under the Employment Service Act (就業服務法), the government is required to provide assistance to middle-aged or older people seeking employment. While the act focuses on helping people who have lost their jobs to find work, a more comprehensive law is needed to ensure that older people receive long-term assistance in other areas, such as career building, the ministry said.
Under the draft act, titled "Employment Service Act for Middle-aged and Elderly Workers," employers who discriminate against individuals aged 45 or older in hiring, firing or other terms and conditions of employment, such as promotions or raises, because of their age would be fined.
In addition, the employer would have their name published and be required to make improvements by a given date.
The act would also require the employer to bear the burden of proof when a complaint of age discrimination is filed.
Furthermore, if an employee is fired or subjected to any form of punishment after filing such a complaint, the employer would be fined NT$20,000 to NT$300,000.
As older people are more likely to be forced to leave work due to health conditions, the act would require the government to subsidize company programs and measures to improve work facilities and provide equipment, training and protection against occupational hazards for middle-aged or older employees.
Under the act, the government would also provide subsidies or other forms of assistance to unemployed middle-aged or older people for career training or to start their own business.
The draft act, which consists of 45 articles, can be viewed at https://join.gov.tw/policies, as well as https://laws.mol.gov.tw.
The public is encouraged to submit suggestions or opinions to the ministry by Sept. 11.
Comments will be moderated. Keep comments relevant to the article. Remarks containing abusive and obscene language, personal attacks of any kind or promotion will be removed and the user banned. Final decision will be at the discretion of the Taipei Times.