KMT derides new governing team as 'election Cabinet,' politically inspired
MISAPPOINTMENTS: Yeh did well as interior minister, but is the wrong pick for minister of education, as he has been accused of misconduct, the KMT caucus head said
The Chinese Nationalist Party (KMT) yesterday said that the latest Cabinet reshuffle was creating an "election Cabinet," showing that the Democratic Progressive Party (DPP) is more concerned with staying in power than protecting the public's rights.
Appointing Executive Yuan spokesman Hsu Kuo-yung (徐國勇) as Minister of the Interior shows that the DPP is solely concerned with candidates' political correctness, rather than their capabilities, KMT Culture and Communications Committee deputy director-general Hung Meng-kai (洪孟楷) said.
Reappointing Minister of the Interior Yeh Jiunn-rong (葉俊榮) as minister of education after a month-long vacancy shows that academics were reluctant to accept the position following the DPP government's handling of the "Kuan Chung-ming (管中閔) incident," Hung said.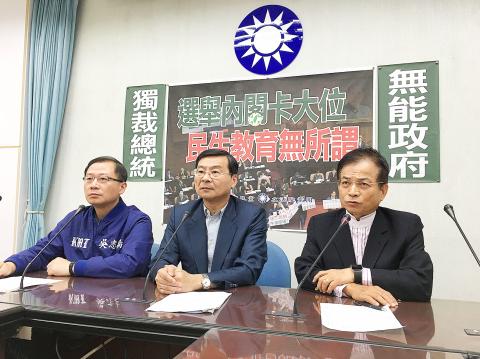 From left, Chinese Nationalist Party (KMT) Legislator John Wu, KMT caucus deputy secretary-general William Tseng and KMT Legislator Lai Shyh-bao speak at a news conference at the legislature in Taipei yesterday.
Photo: Lin Liang-sheng, Taipei Times
The government has refused to confirm Kuan as National Taiwan University (NTU) president after his election by committee on Jan. 5 and in April said it would not appoint him, as he faced allegations that he failed to report a potential conflict of interest and of possible academic misconduct, including illegally teaching at Xiamen University in China.
Yeh is also accused of illegally having taught in China, so appointing him as education minister would only cause further controversy, Hung said.
Yeh was in April accused of having broken the law by teaching at Zhejiang University's Guanhua Law School from Dec.19, 2011, to Jan. 15, 2012, while he was a professor at NTU.
He has denied the allegations, saying that he was not paid for the lectures in China.
While the unpopularity of Minister of Transportation and Communications Hochen Tan (賀陳旦) merited his dismissal, replacing him with Taiwan International Ports Corp chairman Wu Hong-mo (吳宏謀) — who is said to be part of Presidential Office Secretary-General Chen Chu's (陳菊) clique — is an obvious political plum, Hung said.
The politically-inspired appointments on the heel of the Legislative Yuan's extraordinary session were made with the year-end elections in mind, but such blatant "redirection" of resources is a double-edged sword that could turn the public against the DPP, Hung said.
A Cabinet reshuffle was to be expected, as there had not been a major one since Premier William Lai (賴清德) was appointed to the position in September last year, KMT legislative caucus secretary-general William Tseng (曾銘宗) said.
However, an election-oriented Cabinet is not in the nation's long-term interest, as elections are held every four years, he said.
Yeh's performance as interior minister was adequate, but he is not a suitable appointment as minister of education, Tseng added.
Hsu's appointment as Minister of the Interior was politically motivated, Tseng said, adding that Hsu's public image has been tarnished by his attempts to obfuscate information and tendency to argue, rather than communicate, during his tenure as Executive Yuan spokesman.
New Power Party (NPP) caucus convener Hsu Yung-ming (徐永明) said he hopes that the Cabinet reshuffle was not entirely politically motivated and was somehow meant to strengthen ongoing reforms.
"We hope the new ministers will address expectations on sports reform, protection of rights for police and firefighters, renewed efforts to introduce judicial reforms and financial reforms," Hsu said.
People First Party caucus whip Lee Hung-chun (李鴻鈞) said that the DPP should appoint individuals with the national interest in mind.
The national interest, not party interest, should be of primary concern when planning Cabinet reshuffles, Lee said.
Additional reporting by CNA
Comments will be moderated. Keep comments relevant to the article. Remarks containing abusive and obscene language, personal attacks of any kind or promotion will be removed and the user banned. Final decision will be at the discretion of the Taipei Times.