Yao campaign to focus on policies, not people: DPP
Democratic Progressive Party (DPP) Legislator Pasuya Yao's (姚文智) campaign for Taipei mayor is to focus on his policies rather than his opponents, DPP Legislator Rosalia Wu (吳思瑤) said.
Wu, who is chief spokeswoman of Yao's campaign, said that the DPP on Friday during its first campaign strategy meeting for the Taipei mayoral election concluded that Yao should emphasize his platform, rather than go on the offensive against Chinese Nationalist Party (KMT) candidate Ting Shou-chung (丁守中) and Taipei Mayor Ko Wen-je (柯文哲), who is to run as an independent candidate.
At the meeting, the party discussed the division of labor, coordination of efforts, policies, strategies, campaign materials, organization, personnel and other matters ahead of the Nov. 24 mayoral election, Wu said.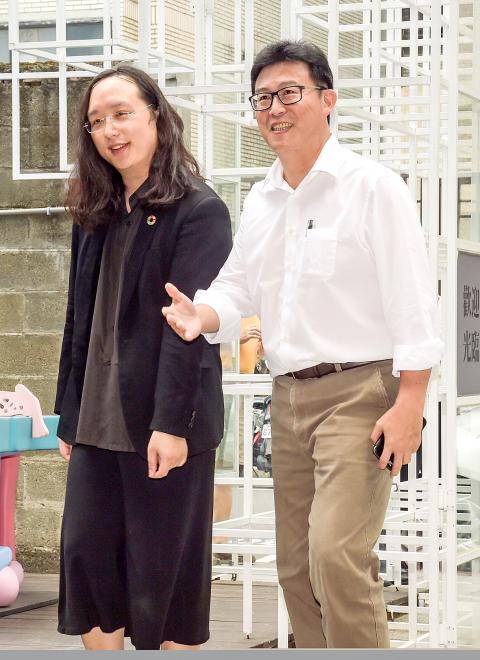 Democratic Progressive Party Taipei mayoral candidate Pasuya Yao, right, on Wednesday visits Minister Without Portfolio Audrey Tang in Taipei.
Photo: Huang Yao-cheng, Taipei Times
The meeting was convened by DPP Secretary-General Hung Yao-fu (洪耀福) and lasted about two hours.
The campaign is to focus on promoting Yao and good city governance driven by effective policies, rather than getting lost in political rhetoric, Wu said.
However, as Ko is the incumbent, the campaign would hold Ko's performance to high standards, she said, adding that Ting has yet to propose any policies that spark interest.
"In the 16 years that Taipei was governed by former mayors Ma Ying-jeou (馬英九) and Hau Lung-bin (郝龍斌) of the Chinese Nationalist Party (KMT), the city's competitiveness fell and it became a second-tier city in global rankings," Wu said at Yao's first election event on Saturday last week.
After October, Yao might either establish separate campaign headquarters or use joint campaign headquarters with the DPP's Taipei city councilor nominees, Wu said, adding that the team is to begin preparing the headquarters in September.
Comments will be moderated. Keep comments relevant to the article. Remarks containing abusive and obscene language, personal attacks of any kind or promotion will be removed and the user banned. Final decision will be at the discretion of the Taipei Times.