INTERVIEW: Tariffs and quality issues plague banana exports: expert
The heyday of Taiwan's banana monopoly in Japan has gone and the Japanese market has become dominated by produce from the Philippines and Central and South American countries. Chishan Association of Fruits and Vegetables Distribution manager and third-generation banana farmer Kuo Tai-cheng, in an interview with 'Liberty Times' (sister newspaper of the 'Taipei Times') staff reporter Huang Chia-lin, said that Taiwanese farmers need to change their habits and mindset, but the nation also needs to address the steep tariffs its exports face
Liberty Times (LT): How much does it cost to produce bananas in Taiwan? How competitive is local produce on the international market?
Kuo Tai-cheng (郭泰呈): The production cost for Taiwanese bananas is about NT$6 per kilogram. In the Philippines and elsewhere, that could be less than NT$3 due to lower labor costs.
At least 80 percent of Japan's bananas are imported from the Philippines and the rest come from Central and South America. Taiwan, the "Banana Kingdom" of yore, has seen its market share drop to one-thousandth.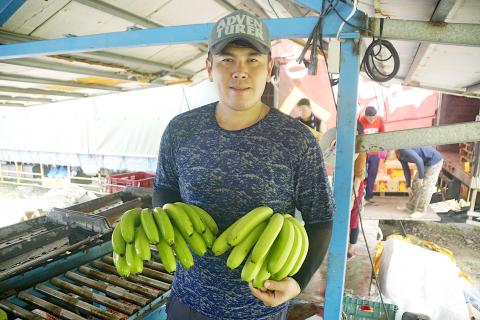 Chishan Association of Fruits and Vegetables Distribution manager Kuo Tai-cheng holds two bunches of bananas at his farm in Kaohsiung's Cishan District.
Photo: Huang Chia-lin, Taipei Times
If only we could raise our share to 1 percent, I am sure Taiwanese bananas would have no problem selling.
However, if bananas fetch US$18 per 12kg box in Japan then there is little to no profit, while bananas from the Philippines or Central and South America go for US$7 to US$10 per crate.
Taiwanese bananas cost at least double, but Kaohsiung's Cishan District (旗山) still manages to export more than 2,000 tonnes per year. That is because we have better quality and target the high-end fruit market in Japan.
We do not have to compete with the Philippines and Central and South America for the average consumer and should seek to target a different market.
LT: If Taiwanese bananas are so great, why are we not exporting big quantities?
Kuo: Tariffs pose the greatest challenge. Philippine and Central and South American produce clears Japanese customs without paying any tariffs, but a 20 percent import tariff is levied on Taiwanese produce, as the nation has not signed a free-trade agreement with Japan.
Coupled with transportation fees, packaging and other costs, exporting to Japan is far more expensive than many people think, making it difficult to compete with Southeast Asian bananas.
Farmers have long hoped that the government would negotiate with Japan and over the years, there have been attempts, but it is difficult to break through all the obstacles.
Representative to Japan Frank Hsieh (謝長廷) this month said that talks with Japan over a free-trade agreement have stalled due to Taiwan's failure to lift its ban on imports from northeast Japan after the 2011 Fukushima Dai-ichi nuclear power plant disaster.
Hsieh added that many other diplomatic issues and obstacles would need to be overcome before banana sales could expand.
We could export excess produce to other countries, but that is not easy. There are limitations on the types of fruits that can be exported and various conditions
For example, a bunch of bananas cannot be more than 70 percent ripe and must weigh between 1.5kg and 3.8kg.
Meeting such standards requires field management. The farmers that I collaborate with and I collectively produce 10,000 tonnes of bananas per year on 200 hectares of plantations.
With good field management, I am confident that more than 90 percent of my bananas would pass the standards. To increase exports, we must improve quality and improve our transportation methods.
LT: How should Taiwanese banana farmers transition to exports?
Kuo: Older farmers must change their habits to improve the quality of their bananas and meet export standards.
More than 80 percent of Taiwan's banana farmers are older than 50. They try to grow bananas as large as they can. Larger bananas look better and weigh more. When the domestic market is stable, they fetch good prices.
Who would focus on growing bananas for export if they can get good prices in Taiwan without giving their crops too much attention?
Changing habits is difficult, but I would hate to see banana prices languish for another three to four years until people finally wake up and agricultural practices improve.
During the summer, fruits are abundant, but consumers prefer those with a cooling effect and high water content. Bananas have lower water content and become second choice.
Bananas are already difficult to sell under normal circumstances due to seasonal factors. Amateur banana farmers begin growing bananas when they see bananas fetching good prices, causing overproduction, and the situation gets worse when professional farmers' bananas fail to meet export requirements.
A banana farmer once asked me to help them sell their bananas abroad, but when the truck full of bananas arrived at the warehouse, more than half the bananas were of poor quality or more than 75 percent ripe. There was no way they could be sold abroad.
If I accepted their bananas, I would have been stuck with them, but if I rejected the batch, I would have been scolded. Farmers need to better understand market dynamics.
LT: How could the government help with production and marketing?
Kuo: The government should learn to predict fruit output earlier in advance and publish forecasts at least a month in advance.
When a huge supply of fruits and vegetables or slow sales are forecast, authorities could encourage traders to increase purchases with subsidies.
At lower prices, traders might be able to secure international orders. By securing export orders before large volumes of fruits come on the market, the government could support prices and prevent markets from collapsing.
When fruits are overproduced, elimination by grade is a necessary evil. Only by eliminating poor-quality produce and using subsidies to prevent good and bad fruits from flooding the market simultaneously can market prices be maintained.
However, lower-grade fruits should not be wasted as fertilizer. It would be better to encourage businesses to develop more processing methods and products.
The government should also support companies that export produce straight from the farm. If more such firms existed and farmers were not relying on intermediaries as much, they would earn better prices.
The government could encourage large local businesses to sign purchasing agreements directly with farmers. It would be better than encouraging companies to purchase fruits on the mass market.
The amount retailers can purchase is limited. If supermarket employees end up taking home bags of fruit after work, everyone would probably stop going to the market to buy fruits.
The government needs to do its homework so it can correctly guide production and marketing.
Translated by staff writers Jake Chung and Sherry Hsiao
Comments will be moderated. Keep comments relevant to the article. Remarks containing abusive and obscene language, personal attacks of any kind or promotion will be removed and the user banned. Final decision will be at the discretion of the Taipei Times.