Abolishing death sentence not a policy: Chiu
The abolition of capital punishment is not a government policy, but care must be taken to ensure full compliance with the law in administering the death sentence, Minister of Justice Chiu Tai-san (邱太三) said yesterday.
The debate over capital punishment has again waded into public discourse following a series of murders over the past few months, including three gruesome cases of dismemberment in northern Taiwan in less than a month.
Several political pundits and social commentators have attributed the murders and brutal deaths to support for the abolition of capital punishment by the government and Ministry of Justice officials.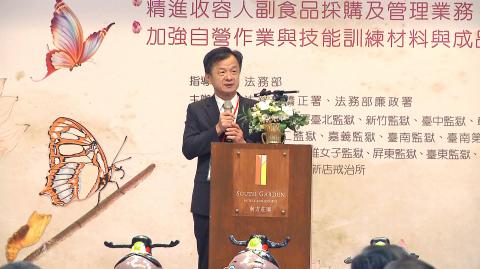 Minister of Justice Chiu Tai-san comments on recent murder cases in a speech at a forum held by the Agency of Corrections in Taoyuan yesterday.
Photo: Lee Jung-ping, Taipei Times
"Abolishing capital punishment is not a Ministry of Justice policy at this time," Chiu said.
"There had been a number of serious cases for which we thank the police for their swift investigation, which has helped ease public fears as the suspects have been placed under detention," he said.
"Prosecutors have put a lot of effort to investigate and gather evidence. It is of utmost importance that these cases be solved promptly and proceeded to trial without delay," he added.
Abolishing capital punishment is not on the agenda, but care must be taken when the ministry has to deal with the execution of a death sentence, Chiu said.
"The ministry has to go through the legal procedures when called upon to administer the death sentence, and we have to follow the procedures every step of the way," he added.
Chiu acknowledged the level of public anger in the face of the killings.
"Nonetheless, these cases have to go through the courts. We cannot execute a suspect before the legal procedures have been followed through," he said.
Families of the female victims who were dismembered have demanded that their killers be put to death.
One woman was allegedly killed by her archery teacher at the Huashan Grassland (華山大草原) in Taipei, while another was allegedly murdered by her boyfriend, a fitness coach, in New Taipei City's Banciao District (板橋).
Social commentators, such as Lucifer Chu (朱學恆), have been vocal on media talk shows, decrying the perceived leniency shown by the justice system to convicted killers, but having little concern for the victims and their suffering.
Chu called for stronger punishment in murder cases, adding that the ministry must carry out capital punishment as a deterrent to crime.
Comments will be moderated. Keep comments relevant to the article. Remarks containing abusive and obscene language, personal attacks of any kind or promotion will be removed and the user banned. Final decision will be at the discretion of the Taipei Times.