Scooter owners protest planned emission rules
AIR QUALITY: Two-stroke scooters account for a minimal part of the nation's PM2.5 emissions, and the EPA should crack down on factories and power plants, a protester said
Nearly 1,200 scooter owners yesterday gathered on Ketagalan Boulevard in Taipei to protest against a government plan to tighten emission standards, saying that it should rather target bigger pollution sources such as power plants and factories.
Owners of two-stroke engines from around the nation are defending their "road rights," as the Environmental Protection Administration is trying to use Articles 36 and 40 of the Air Pollution Control Act (空氣污染防制法) to impose a ban on two-stroke scooters, said Northern Alliance Against a Ban on Two-Stroke Scooters deputy convener Ray Liu, who declined to provide his Chinese name.
In addition to owners of two-stroke scooters, people with four-stroke scooters also joined the rally to support their cause, Liu said, adding that some protesters rode from Kaohsiung and eastern Taiwan.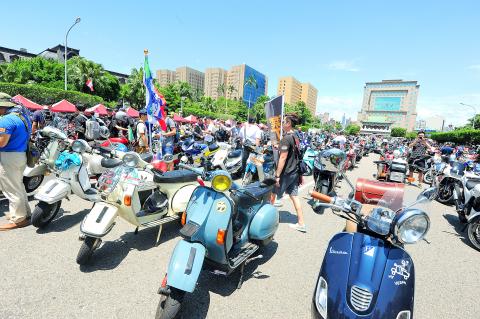 Owners of two-stroke scooters gather on Ketagalan Boulevard in Taipei yesterday to protest government plans to tighten emission standards.
Photo: Wang Yi-sung, Taipei Times
A protester surnamed Yao (姚) said he last year spent about NT$30,000 on his Vespa PX150E because he wanted to ride the model that his father and his grandfather rode when they were young.
The EPA's draft amendment to Article 36 would tighten emission standards for vehicles more than 10 years old, while its draft amendment to Article 40 states that vehicles that do not comply with the new standards would be banned from entering certain air-quality regulation zones.
The Legislative Yuan has finished an initial review of the drafts.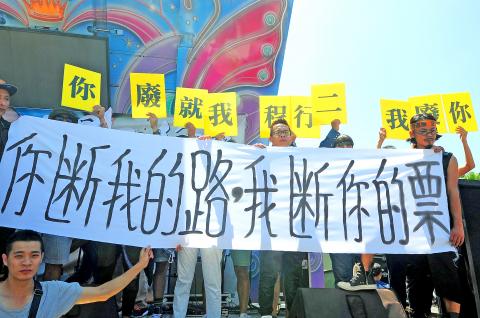 Owners of two-stroke engine scooters yesterday gather on Ketagalan Boulevard in Taipei to protest government plans to tighten emission standards. The banner reads "if you curtail my road, I will curtail your vote."
Photo: Wang Yi-sung, Taipei Times
The PM2.5 pollution — particulate matter with a diameter of 2.5 micrometers or less — emitted by two-stroke scooters makes up about only 1.15 percent of the nation's total PM.2.5 pollution, and the agency's efforts against two-stroke scooters is disproportionate, Liu said.
The EPA should tackle pollution caused by factories and power plants instead, he added.
Representing the agency to respond to the protesters' appeals, EPA Department of Air Quality Protection and Noise Control section chief Chou Li-chung (周禮中) said the agency does not only target two-stroke scooters, but all pollution sources.
Over the past decade, the agency has been subsidizing people who replace their two-stroke scooters with new vehicles that emit less pollution, Chou said.
The PM2.5 emissions of two-stroke scooters are about 60 times more than those of four-stroke scooters, and they emit twice the carbon monoxide and 20 times the hydrocarbons released by four-stroke scooters, he said, prompting a chorus of boos and heckles from the protesters.
The agency later yesterday issued a statement saying that the new regulations aim to protect people's health and calling for understanding and cooperation.
Regulating a single pollution source would be ineffective to improve the nation's air quality, given that 30 to 37 percent of its pollution comes from mobile sources, 27 to 31 percent from stationary sources and the rest from other mixed sources, the agency said.
The EPA would not stop people from collecting old scooters, but old vehicles should not enter certain air-quality maintenance zones and violate emission standards once the bills are passed into law, it added.
The protesters also held a contest yesterday afternoon, at which attendees chose the best-looking scooter among hundreds of old scooters, including classic Vespa bikes and Wolf motorcycles.
Comments will be moderated. Keep comments relevant to the article. Remarks containing abusive and obscene language, personal attacks of any kind or promotion will be removed and the user banned. Final decision will be at the discretion of the Taipei Times.