Man tries to burn down KMT headquarters
A middle-aged man yesterday morning attempted to torch the Chinese Nationalist Party's (KMT) headquarters, the Taipei City Police Department said, adding that they are still investigating his motive.
A 43-year-old man surnamed Tsai (蔡) broke into KMT headquarters and started a small fire, but was stopped by two security guards, police said.
One of the guards is in intensive care for observation after sustaining a smoke inhalation injury, police said.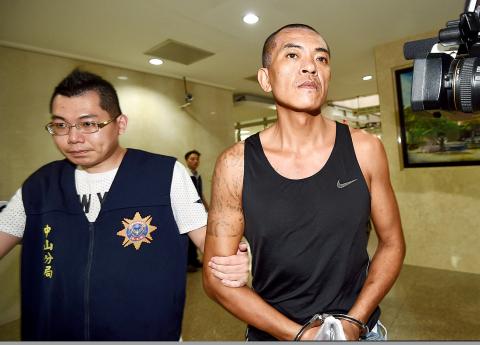 A man surnamed Tsai, right, who yesterday broke into the Chinese Nationalist Party's (KMT) headquarters in Taipei and started a fire, is escorted in handcuffs by a police officer at the Taipei District Prosecutors Office.
Photo: Chien Jung-fong, Taipei Times
Tsai was a member of the Bamboo Union gang and has a criminal record for obstruction of liberty, fraud and threatening others, police said, adding that he might be indicted for breaching the Public Safety Act (公共危險罪).
Tsai entered the premise and shouted "Mind your own business" before pouring gasoline over the carpet and setting it ablaze, the guards said in their statements.
While being restrained by the guards, Tsai said he was a victim of KMT oppression, although he did not clarify how or why he was a victim, the party said.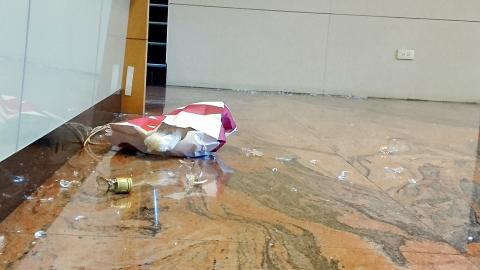 A paper bag, broken glass jar, and spilled gasoline are pictured on the first floor reception counter of the Ministry of Justice in Taipei yesterday.
Photo: CNA
Tsai reportedly said that he was expressing his dissatisfaction with the KMT's inaction in the face of the Democratic Progressive Party government's promise of a NT$4.5 billion (US$150.1 million) loan to Taiwan's diplomatic ally Haiti.
The KMT regrets that the incident occurred and condemns any irrational violent behavior, it said in a statement, adding that it would step up security measures to prevent a similar incident.
It was not the first time that KMT headquarters have been attacked.
A man on Feb. 28, 2016, firebombed the building, leaving behind pamphlets saying that the KMT should return all property, assets and ill-gotten gains taken from Taiwanese.
Separately yesterday, a man smashed a bottle filled with gasoline on the front desk of the Ministry of Justice in Taipei.
The man entered the building at about 2:20pm and, expressing his dissatisfaction with Minister of Justice Chiu Tai-san (邱太三), set fire to a paper bag and threw it at the front desk, police said.
When the flames quickly died out, he smashed a gasoline-filled bottle on the desk and attempted to light it with a cigarette lighter before security stopped him, they added.
Additional reporting by Liu Ching-hou and CNA
Comments will be moderated. Keep comments relevant to the article. Remarks containing abusive and obscene language, personal attacks of any kind or promotion will be removed and the user banned. Final decision will be at the discretion of the Taipei Times.