Last snake-only shop closes on Huaxi Street
The last snake restaurant in Taipei's Huaxi Street Night Market (華西街觀光夜市), also known as "Snake Alley," is to close today, with second-generation owner Kuo Yi-chien (郭懿堅) saying the shop is to be converted into a hot pot restaurant.
Six decades ago, Huaxi Street in the city's Wanhua District (萬華) was a red-light district that featured brothels, street performers and snake-meat restaurants, said Kuo, who inherited his father's restaurant, which has only ever served snake.
There were as many as eight snake restaurants in the area's heyday, but the only two other remaining restaurants with snake on the menu now manly sell softshell turtle meat, Kuo said.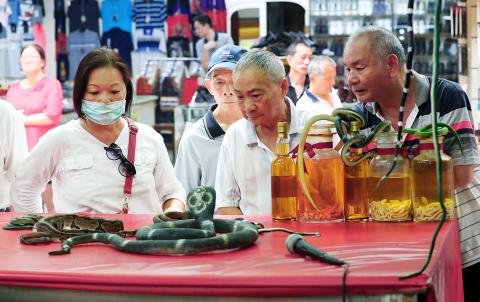 Passersby look at the fare on offer at the last snake restaurant on Huaxi Street in Taipei's Wanhua District yesterday.
Photo: CNA
His father, Kuo Lai-kung (郭來貢), opened the Asia Snake Meat Store (亞洲蛇肉店) in his 20s and marketed his snake dishes and snake wine by slaughtering the animals in front of customers, he said.
The store was widely recognized because his father considered himself the nation's top snake expert and kept an orangutan named A-bao (阿寶) trained to catch snakes, Kuo Yi-chien said.
However, as public awareness grew about the need for animal protection, the government banned the killing of protected species.
Meanwhile, the busker culture on Huaxi Street was dying out, which is why their family decided to stop serving snake, Kuo Yi-chien said.
As the store on No. 49 closes for the last time today, actor Kuo Tzu-chien (郭子乾) is to perform a mock snake slaughter at 10:30am and attendees will be given imitation snakes as souvernirs.
Sharing the news about the store's closure on Facebook yesterday, cultural studies expert Jason Cheung (張哲生) recalled how tourists from around the world used to swarm to the street to watch snake-killing performances.
Kuo Lai-kung was a friend of Cheung's father and both participated in China Youth Corps activities, Cheung said, adding that he has visited many places with them since childhood.
The store's closure arouses complex emotions, because it not only signals the end of a restaurant, but the end of an era, Cheung said.
Many people expressed regret online over the store's closure, with one saying that their skin problems were cured after they drank snake soup on the street.
Comments will be moderated. Keep comments relevant to the article. Remarks containing abusive and obscene language, personal attacks of any kind or promotion will be removed and the user banned. Final decision will be at the discretion of the Taipei Times.