Beijing's threats will only drive away Taiwanese: minister
China's continued saber rattling toward Taiwan will not be successful, but will only trigger resentment among Taiwanese, Minister of National Defense Yen De-fa (嚴德發) said on Saturday.
"I do not know whether you feel the same as I do. I believe that China doing so will have almost no effect, but will only stir up resentment among Taiwanese," Yen told a forum on national security strategy organized by Tamkang University to mark the second anniversary of President Tsai Ing-wen's (蔡英文) inauguration today.
The ever-changing international situation poses risky challenges for Taiwan, Yen said.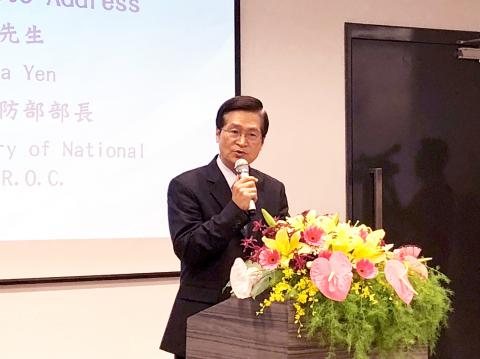 Minister of National Defense Yen De-fa speaks at an annual event organized by Tamkang University yesterday.
Photo: CNA
"The complex situation on the Korean Peninsula, in which the US, Japan, China and Russia are also involved, will indirectly affect the situation across the Taiwan Strait," he said.
"In the disputed waters of the South China Sea, China's deployment of anti-ship and surface-to-air missile systems on the Yongshu Reef [永暑島, Fiery Cross Reef] and Jhubi Reef [渚碧礁, Subi Reef] has reflected its ambition in the region, posing a threat and challenge to Taiwan's security," Yen added.
China's removal of a two-term limit on the presidency will effectively allow Chinese President Xi Jinping (習近平) to remain in power for life, making him a strongman capable of exerting greater pressure on Taiwan, Yen said.
At a time when China has been stepping up its military intimidation toward Taiwan, while offering more incentives to attract Taiwanese businesses, professionals and students to go to China, Taiwan faces tremendous risks in negotiating Beijing's "carrot and stick" approach, he said.
As long as Taiwan upholds its core democratic values, the nation would win recognition from other nations in the region due to its strategic location, he said.
"Taiwan's military is absolutely capable of defending the nation while facing various challenges," Yen added.
Comments will be moderated. Keep comments relevant to the article. Remarks containing abusive and obscene language, personal attacks of any kind or promotion will be removed and the user banned. Final decision will be at the discretion of the Taipei Times.