Convicted Chinese spy Zhou released
TIME SERVED? Zhou's lawyers said that as he had been detained since March last year, the months prior to his conviction in September should count toward his term
The Taiwan High Court yesterday released convicted Chinese spy Zhou Hongxu (周泓旭) after his legal team appealed for him to be freed, but barred him from leaving the country and ordered him to report daily to the police.
The Taipei District Court on Sept. 15 last year convicted Zhou of espionage and breaching the National Security Act (國家安全法) and sentenced him to 14 months, a ruling that was criticized by many people as too lenient.
The High Court yesterday agreed with Zhou's lawyers, who argued that he had effectively served his sentence since he had been held in detention since Taipei prosecutors took him into custody on March 9 last year for questioning into allegations he had been recruiting people to spy for China.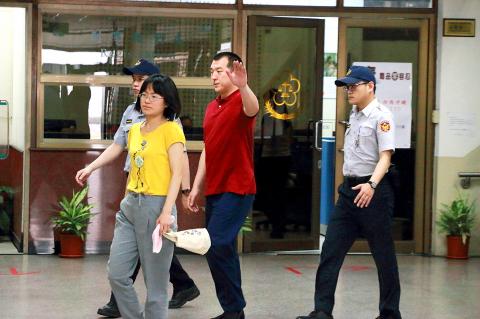 Convicted Chinese spy Zhou Hongxu, in red shirt, yesterday waves to reporters as he leaves the Taiwan High Court in Taipei after being released from prison.
Photo: CNA
The court cited Code of Criminal Procedure (刑事訴訟法) provisions for its ruling, but it imposed travel restrictions and limits on public statements, and required him to report daily to the Liuzhangli Police Station, the nearest station to his Taipei residence.
As Zhou walked out of the court yesterday, he told reporters: "I will appeal my case, because I am innocent of the charges."
Zhou said he needed to be careful with his words, because he needed to obey the restrictions the court had imposed on his public statements about his case.
The 31-year-old Zhou first came to Taiwan in 2009 to study at Tamkang University in New Taipei City's Tamsui District (淡水) and later returned to study for a graduate degree in management at Chengchi University from 2012 to 2016.
In a related development, New Party spokesman Wang Ping-chung (王炳忠) has been listed as a defendant in Zhou's espionage case.
Prosecutors suspect that Zhou recruited Wang to help him develop a spy network as a means of penetrating important government ministries and to source classified materials to pass on to Chinese authorities.
In their ongoing investigation into separate charges in the case, Taipei prosecutors last week summoned Wang and several of his associates for questioning, including New Party youth wing executives Ho Han-ting (侯漢廷) and Lin Ming-cheng (林明正), and a party accountant surnamed Tseng (曾).
Wang failed to appear last week, but presented himself on Monday, when he was listed as a defendant on charges of violating the National Security Act.
Ho, Lin, Tseng and Wang's father, Wang Chin-pu (王進步), did appear for questioning and were later released, but with travel restrictions.
Wang Ping-chung is known for his pro-China views and has made frequent trips to China, often appearing as a political commentator on Chinese state media.
Comments will be moderated. Keep comments relevant to the article. Remarks containing abusive and obscene language, personal attacks of any kind or promotion will be removed and the user banned. Final decision will be at the discretion of the Taipei Times.