Students accuse NTU of double standards in protests
FREEDOM OF EXPRESSION: While banners supporting NTU president-elect Kuan Chung-ming have been hanging for days, those opposing his election were quickly removed, a student said
A group of National Taiwan University (NTU) students yesterday accused school authorities of suppressing freedom of speech and applying double standards in its treatment of people who support or oppose Kuan Chung-ming's (管中閔) election as university president.
The Ministry of Education on Friday last week decided not to confirm Kuan's election after a series of allegations, ranging from conflicts of interest in the selection process to plagiarism and teaching in China, prevented him from taking office as scheduled on Feb. 1.
The Action Alliance for University Autonomy, which was formed by a number of academics who support Kuan, have put up banners and yellow ribbons near the university's bell tower.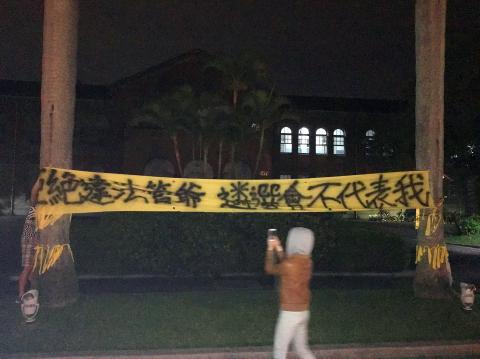 A student takes a picture of a banner yesterday, which reads: "Say no to the illegally elected president Kuan Chung-ming; the election committee does not represent my view," displayed on the National Taiwan University campus in Taipei.
Screen grab from Facebook
An NTU student, who wished to only be identified by his surname, Hsu (徐), said that not everyone at the school supported Kuan, so he and several other students at 3am or 4am yesterday hung up banners saying that they do not want a lawbreaker and that the university election committee does not represent them.
However, the banners were moved a few hours later and then removed later that day.
Students opposing Kuan said they were simply expressing what they think and that their action did not harm anybody and was not illegal.
"Kuan's supporters are like children, thinking they would win if they were first," the opposing camp said.
Despite his supporters' calls for freedom of speech and school autonomy, they have no true faith in what they claim, for they do not respect the principles behind them, the opposition camp said.
Students who favor Kuan are unable to provide a legal basis for their support and are hiding behind vague claims, such as political oppression and trampling on university autonomy, they said.
Kuan should clearly state his position and face the issue like a true academic, instead of resorting to emotional manipulation and saying: "I will not dance to their tune," they said.
If school authorities were involved in the removal of the banners, then the school has adopted double standards in its treatment of the protests, they said.
Banners supporting Kuan have been left untouched for days, while those opposing Kuan were removed within a day, they said.
NTU would be a false democracy and a supporter of authoritarianism if they were involved, they added.
Comments will be moderated. Keep comments relevant to the article. Remarks containing abusive and obscene language, personal attacks of any kind or promotion will be removed and the user banned. Final decision will be at the discretion of the Taipei Times.