Approval of Cabinet-level restructuring bills likely
FORTY DRAFTS: While a consensus has formed on plans for the EPA, the Water Resources Agency and the Mainland Affairs Council, six proposed plans have yet to be completed
More than 40 draft bills regarding government restructuring plans at the Cabinet level are expected to be approved by the Executive Yuan on Thursday, a source with close knowledge of the matter said yesterday.
Conclusions have been reached on the proposed upgrade of the Environmental Protection Administration, but contrary to proposals made during previous discussions, only part of the Water Resources Agency's responsibilities would be transferred to the proposed ministry, the source said, adding that officials at the Directorate-General of Personnel Administration have decided to divest the agency of about half of its tasks.
Tasks pertaining to economic growth — such as the appropriation of water for industrial use and river remediation projects — would remain under the agency's jurisdiction, while tasks associated with conserving water resources would be moved under the purview of the proposed ministry of environmental resources, the source said.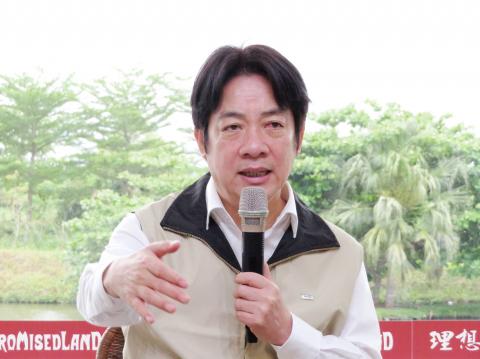 Premier William Lai speaks in an undated photograph.
Photo: Lee Hsin-fang, Taipei Times
The planned ministry of environmental resources has been dubbed the "grand ministry," as its responsibilities would cover some tasks previously undertaken by the Ministry of Transportation and Communications, the Ministry of Economic Affairs and the Council of Agriculture, the source added.
The Executive Yuan has prioritized 44 bills on the restructuring of Cabinet-level agencies for review during the current legislative session, of which the bill on restructuring the Mainland Affairs Council has passed a preliminary review.
Meanwhile, the debate over delegating the oversight of national parks has been settled, with the Ministry of the Interior being tapped to continue managing the parks after Premier William Lai (賴清德) acted as a mediator between Minister of the Interior Yeh Jiunn-rong (葉俊榮) and concerned agency heads, the source said.
Lai also sought the opinion of Democratic Progressive Party lawmakers, none of whom objected to the arrangement, the source added.
The proposed government restructure was launched in 2012 following the passage of amendments to the Organic Act of the Executive Yuan (行政院組織法) in 2010.
However, the task has met with many obstacles, as agencies whose staff or responsibilities are set to be reduced have protested, with some even lobbying legislators to intercede.
Six proposed restructuring plans have yet to be completed, including plans to reform the Ministry of the Interior, the Mainland Affairs Council and the Ministry of Economic Affairs, as well as the proposed ministries: the ministry of environmental resources, the ministry of economic affairs and energy, the ministry of transportation and construction and the ministry of agriculture.
Comments will be moderated. Keep comments relevant to the article. Remarks containing abusive and obscene language, personal attacks of any kind or promotion will be removed and the user banned. Final decision will be at the discretion of the Taipei Times.