INTERVIEW: 'Smart' moves would improve long-term care: minister
In view of Taiwan quickly becoming a hyper-aged society, Minister of Health and Welfare Chen Shih-chung in an interview with 'Liberty Times' (sister newspaper of the 'Taipei Times') staff reporters Jennifer Huang and Wu Liang-yi said the medical industry has to make greater use of robotics and other 'smart' technologies to compensate for inevitable staff shortages in long-term care
Liberty Times (LT): With Taiwan soon to become a hyper-aged society, where 20 percent of the population are senior citizens, would falling tax income affect the financing of long-term care? Can the establishment of long-term care infrastructure keep up with the rate at which Taiwanese society is aging?
Chen Shih-chung (陳時中): The ministry's projected promotion of the Long-term Care Service Program 2.0 over four years should not be affected, even with the decrease in tobacco tariffs, which should only be a short-term problem. If needed, public affairs funding could also be diverted as a quick fix.
At the current rate of aging, Taiwan will become a hyper-aged society within eight years, which is a much faster rate than many other nations. There is a pressing urgency to establish necessary infrastructure for long-term care — the greater the density of such facilities the better. Services should of course be tailored to fit local demands.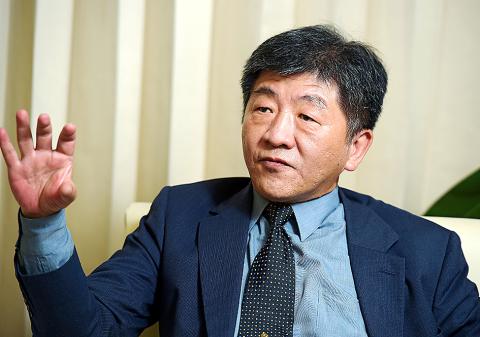 Minister of Health and Welfare Chen Shih-chung speaks during an interview with the Liberty Times, the Taipei Times' sister newspaper, in Taipei on April 11.
Photo: Huang Yao-cheng, Taipei Times
The ministry's priority is on home care and community care. The government is to push long-term care 2.0 ahead of schedule to meet 70 to 80 percent of the program's targets by the end of this year, bringing the timetable forward by one year from 2020 to next year. To meet the new schedule, we must double the rate of construction of all service facilities.
The greatest challenge lies in the inevitable shortage of long-term care personnel, especially eight years from now, when the elderly population would reach 20 percent of total population from the current 14 percent.
Double the current amount of personnel would be required to compensate for the increased elderly population; failure to do so would see deterioration of long-term care quality.
With retention of only one-third of all long-term care personnel trained per year — one-third retires and the remaining one-third leaves to seek other jobs — the goal of doubling the personnel pool will be difficult. Low wages and a lack of respect are the most oft-cited reasons for leaving the job.
To ameliorate these problems, the ministry is increasing wages of long-term care employees to NT$32,000, and is adjusting payment schemes and introducing robots to increase efficiency and mitigate the effects of employee shortages.
Using robots to sweep the floors, automatic bath machines to help expedite the washing and bathing of disabled people, and automated devices to remind patients to take their medicine would ensure that efficiency does not result in a general decline in quality of service.
Swapping the hourly payment scheme for a "fee for service" scheme would encourage long-term care employees to do more.
One-on-one homecare services would not be available to everyone, and communal care or daycare facilities offer the most efficient use of extant resources. As of last year, we have added 200 daycare services.
The ministry is focusing on ensuring and providing necessary services on a communal level and will be looking to provide institutionalized long-term care.
A hyper-aged society would need complete care for disease prevention, examination, medical care and long-term care.
The ministry hopes to address the source of disabled people by exhorting elderly people to participate in the Health Promotion Program for the Elderly.
As of 2015, Taiwan had 750,000 disabled people, a number that is estimated to grow to 1.2 million by 2031. With an aged society, we are hoping to see a lower ratio of disabled people.
LT: China has been blocking Taiwan's participation at this year's WHA [World Health Assembly]. What is the ministry's response and what is its policy for letting Taiwan be heard internationally?
Chen: In persecuting Taiwan, China has put politics before world health.
Frankly, with regard to our nation's participation in the WHA next month, we do not view the situation with optimism. However, we will still go [to Geneva, Switzerland, where the WHA is to be held] and let Taiwan's voice, as well as its accomplishments and contributions to health be heard. We will call an international news conference to protest this unfair treatment.
Issues of public health should come before politics and the WHA's exclusion of Taiwan is completely inappropriate.
The WHA's agenda this year is universal coverage, which is about extending the coverage and equality of healthcare on a global scale. Our slogan is "Universal coverage, Taiwan can help."
The National Health Insurance Program is a safety net that provides equal medical access for everyone from the cradle to the grave, regardless of profession or wealth. The nation's unique experience and accomplishments in public healthcare is something from which the world could benefit.
Taiwan's experiences in addressing negative health outcomes arising from inequality is valuable.
Late last year, I instructed the ministry to create strategies that would address the health inequalities affecting Aborigines, particularly in liver disease, liver cancer, cerebral-vascular diseases, accidental injuries and other conditions. Two Aboriginal communities will be selected for a pilot program for the home delivery of prescription medicines for hepatitis C via the DOTS [Directly Observed Treatment Short-Course] and other medical care, which would reduce the incidence rate of hepatitis C.
Next year, Aboriginal townships will be prioritized for capitation [where insurance payment of healthcare providers is calculated by the number of enrollees assigned to them per period], which has been discussed for many years.
Although we are pushing mobile medicine and the IDS [Integrated Delivery System] to remote Aboriginal communities, the availability of medical resources is still confined to isolated points and they often fall short of providing holistic healthcare.
For those reasons, we plan to revamp the insurance pay scheme to a capitation system, which would incentivize delivering positive outcomes.
For example, liver disease in Aborigines is often the result of alcohol and tobacco use. Public campaigns to change people's habits are often unsuccessful. Rather, the benefits of health should be highlighted as an incentive for people to voluntarily change their habits, creating an autonomous movement toward a healthier lifestyle.
LT: What is the ministry's position on food imports from Japanese prefectures [that were banned after the Fukushima Dai-ichi nuclear disaster] and US pork imports?
Chen: We will never permit the import of so-called "irradiated foods," or food products that exceed radiation safety standards. The ministry's job is to protect public health and safety. Diplomatic or trade policy is of no concern to us and they should not in any way affect the carrying out of rigorous inspections and safety tests.
We have conducted more than 115,000 safety inspections on Japanese food imports since the nuclear disaster. We found no food products that contained radiation levels that exceeded safety standards.
The challenge here is communicating the public safety situation to the public. People want to feel safe in addition to being safe. This is an area where we need to make improvements. The public needs to know that the government is stopping the sale of food products contaminated by radiation, and they should stop conflating or oversimplifying foods from the areas affected by nuclear disasters with the term "irradiated food."
With respect to ractopamine, the Council of Agriculture does not allow its use in cattle. US beef raised with growth accelerators that enhance muscle leanness is already being imported, so the council has to conduct necessary risk assessments before the ministry can move forward with its research into the issue.
LT: Does the ministry believe that its policies will remain unaffected by Chinese policies seeking to poach Taiwanese doctors and personnel in medical management and long-term care?
Chen: We have faith in Taiwan's medical industry, but it is also important how we address the matter. Taiwan will inevitably face global competition, so we must seek to keep local talent while fostering an environment friendly toward skilled foreign workers.
In terms of salary and the entire medical industry, China still lags behind Taiwan in wages, work environment and level of education. Taiwanese doctors are paid better, and whether working in China is more lucrative for Taiwanese doctors remains to be seen.
Some people say that Taiwan, compared with other nations, has a lower average income, but they are just looking at the numbers.
Take South Korea for example: While South Koreans earn higher wages, their commodity prices are high as well. Taiwan has maintained stable commodity prices, and compared with the wage level, Taiwan's real purchasing power is actually quite high.
It would be necessary to make further clarifications on such comparisons.
While China claims that it is targeting the long-term care sector for personnel recruitment, long-term care is an industry requiring genuine compassion, which is lacking in China compared with Taiwan.
The government has sunk considerable resources into the development of long-term care and we are certain those in the industry would know what is the right choice.
Taiwan welcomes and is seeking more talented people who would help its culture, academia and medicine progress further.
Translated by staff writers Jonathan Chin and Jake Chung
Comments will be moderated. Keep comments relevant to the article. Remarks containing abusive and obscene language, personal attacks of any kind or promotion will be removed and the user banned. Final decision will be at the discretion of the Taipei Times.