PLA to conduct live-fire drill in Strait next week
China's People's Liberation Army (PLA) is to conduct a live-fire exercise in the Taiwan Strait from 8am to midnight on Wednesday next week, the Global Times newspaper reported yesterday, warning that ships should avoid the exercise zone.
The tabloid, owned by Chinese Communist Party's People's Daily, said the exercise is to take place in a zone 20km from the coast of Quanzhou Bay (泉州灣) in Fujian Province. That would place it about 40km from Kinmen, the Global Times said.
News of China's planned exercise came amid other military drills by Taiwan and the US.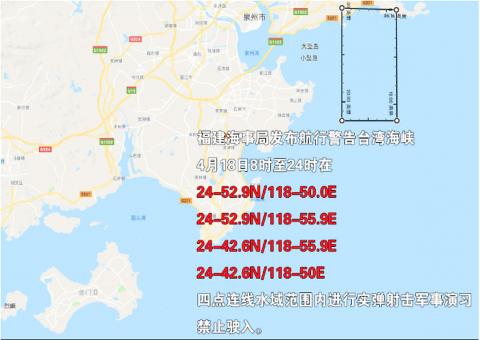 A map published in the Chinese state-run Global Times marks the area in the Taiwan Strait where the Chinese military is to conduct live-fire exercises on Wednesday next week.
Photo: Screen grab from Global Times' Web site
The Ministry of National Defense is holding a large-scale naval exercise from its base in Yilan County's Suao Township (蘇澳), which President Tsai Ing-wen (蔡英文) is scheduled to attend.
Chinese President Xi Jinping (習近平) yesterday presided over the PLA Navy's largest-ever military display from aboard the destroyer Changsha in an unspecified location in the South China Sea, Chinese state media reported.
The procession involved more than 10,000 naval personnel, 76 fighter jets and a flotilla of 48 warships and submarines, including the aircraft carrier Liaoning, they said.
Xi told the assembled troops that China's need for a world-leading naval force "has never been more pressing than today" and urged them to devote their unswerving loyalty to the party, reports said.
A US Navy carrier strike group led by the Nimitz-class USS Theodore Roosevelt has been conducting an exercise in the South China Sea since Friday last week.
Ministry spokesman Major General Chen Chung-chi (陳中吉) said the military is monitoring the area and is prepared to respond to any situation that might arise during the Chinese exercise.
China conducted live-fire exercises in the Taiwan Strait near Kinmen in July and September 2015, which coincided with the defense ministry's 31st Han Kuang exercises off Kinmen.
China Coast Guard gunboats and land-based artillery batteries took part in the 2015 drills, with the gunboats joining the July exercise and the land batteries the September one.
Comments will be moderated. Keep comments relevant to the article. Remarks containing abusive and obscene language, personal attacks of any kind or promotion will be removed and the user banned. Final decision will be at the discretion of the Taipei Times.