Chen Chu to lead Presidential Office
'SISTER CHU': The Kaohsiung mayor deflected questions about the purported selection, saying that she would do what is necessary for Taiwan's development
Kaohsiung Mayor Chen Chu (陳菊) on Tuesday agreed to take up the post of Presidential Office secretary-general, a source close to the matter said, adding that Chen would assume office by the end of the month.
The office is to confirm the appointment after President Tsai Ing-wen (蔡英文) returns from an official visit to Swaziland this month, the source said.
The source, a prominent member of the pan-green camp, said that Chen is expected to act as a "barrel hoop" that will tie everyone in the office together.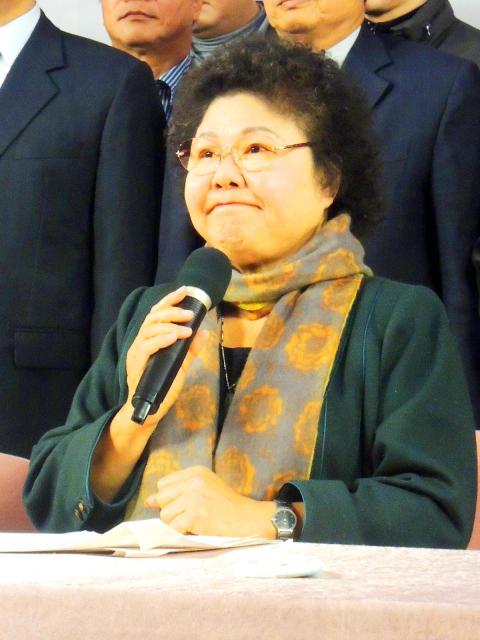 Kaohsiung Mayor Chen Chu speaks at an event in the city on Tuesday.
Photo: Wang Jung-hsiang, Taipei Times
"Former president Lee Teng-hui (李登輝) once referred to Chen as 'sister Chu,' which she found shocking," the source said, adding that Chen was humbled by the reference.
"Being addressed in this way shows there is a great deal of respect for Chen" within the Democratic Progressive Party (DPP), the source said.
Upon hearing news of the appointment, several DPP members expressed approval, with some saying that they feel Chen demonstrates a clear sense of responsibility toward the nation.
Asked about the rumored appointment, Presidential Office spokesman Sidney Lin (林鶴明) said: "The president holds the position [of office secretary-general] in high regard. When the appointment is finalized, there will be a formal announcement."
Asked for comment, Chen told reporters: "You will need to ask the Presidential Office. If there is any new information, there will definitely be a formal announcement."
Chen on Monday spoke at a news conference announcing Kaohsiung's successful bid to host the 10th annual International e-Sports Federation competition in November. Reporters at the news conference seized the opportunity to ask Chen about the appointment.
"A soldier does not have the right to choose their battlefield, they go where they are needed," she said, adding that she would do what is necessary for the nation's development, as well as the needs of the party.
DPP Legislator Lai Jui-lung (賴瑞隆) said that Chen and Tsai get along "like sisters," adding that Chen is highly trusted by the president.
Chen is able to help Tsai with issues she would prefer not to deal with, particularly in areas involving interpersonal affairs, Lai said.
Chen is also able to be very direct with Tsai, he said, adding that this would be helpful to the administration.
Comments will be moderated. Keep comments relevant to the article. Remarks containing abusive and obscene language, personal attacks of any kind or promotion will be removed and the user banned. Final decision will be at the discretion of the Taipei Times.