KMT demands answers about reactor incident
Minister of Economic Affairs Shen Jong-chin (沈榮津) should step down over Guosheng Nuclear Power Plant's No. 2 reactor tripping on Wednesday during test operations, while Premier William Lai (賴清德) should present an ad hoc report on the incident to the Legislative Yuan, the Chinese Nationalist Party (KMT) caucus said yesterday.
During a meeting of the Legislative Yuan's Education and Culture Committee last week Shen assured legislators that no problems would arise after the reactor was reactivated and that if it were to encounter another failure, as it did in May 2016, he would "mete out punishments," KMT caucus secretary-general Lee Yen-hsiu (李彥秀) told a news conference at the legislature.
However, Wednesday's incident occurred only about 25 hours after the reactor was restarted following maintenance work and inspections that lasted more than 600 days, Lee said.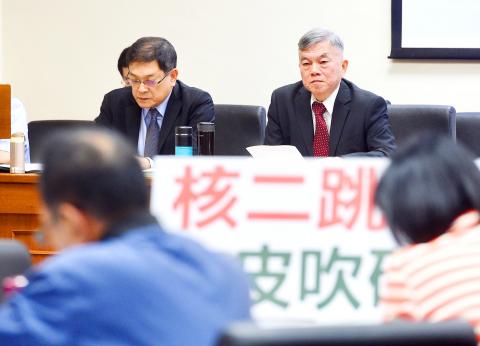 Taiwan Power chairman Yang Wei-fu, left, and Minister of Economic Affairs Shen Jong-chin attend a meeting of the legislature's Education and Culture Committee yesterday at the Legislative Yuan in Taipei.
Photo: Peter Lo, Taipei Times
Shen should assume political responsibility and resign on his own initiative, she said.
The reactorin New Taipei City's Wanli District (萬里) was taken offline for maintenance work in May 2016, but on May 16, a power surge burned out three surge arresters in the reactor's electricity generation system. Maintenance was finally completed in December last year.
Lee asked whether the incident has compromised safety at the plant and whether the latest shutdown would cause an energy shortage in summer, when power consumption is at its peak.
Lai should deliver an ad hoc report, informing the legislature as to when a safety assessment could be completed and when the unit could be restarted, she said.
She also called on President Tsai Ing-wen (蔡英文) to hold a national energy meeting to explain the Cabinet's energy policy and how it plans to respond to the expected rise in power consumption in summer.
State-run Taiwan Power Co (Taipower) said that the trip was triggered by an anomaly in the pressure in the reactor's steam valve, which has raised safety concerns among nuclear engineers, KMT Legislator Ko Chih-en (柯志恩) said.
The pressure in the steam valve would affect the absorption rate of neutrons in the reactor, potentially increasing safety risks, Ko said.
She called on Taipower to release a more comprehensive report explaining whether the incident would affect the facility's safety.
As the Ma-anshan Nuclear Power Plant in Pingtung County is set to undergo 45 days of maintenance from Tuesday, the incident could have great repercussions for the nation's energy supply if responsible agencies would take six months to finalize a safety report like they did following the 2016 accident on the site, Ko said.
KMT Legislator Wang Hui-mei (王惠美) ridiculed Shen, saying that he broke his promise that the reactor would operate smoothly within the seven-day period during which people can return an item they bought online.
The incident raises questions about Taipower's credibility in conducting repairs to the reactor, the Atomic Energy Council's inspection of such repairs and the ministry's supervision of the two agencies, she said.
Comments will be moderated. Keep comments relevant to the article. Remarks containing abusive and obscene language, personal attacks of any kind or promotion will be removed and the user banned. Final decision will be at the discretion of the Taipei Times.