Taiwan to seek audience with US over steel tariffs
'MONEY TALK': Legislator Lai Shyh-bao urged the premier to use the Taiwan Travel Act to make clear Taiwan's stance on the tariffs, which could cut national GDP by 0.8 percent
Taiwan will try to negotiate with the US to be exempted from punitive tariffs imposed by Washington to curb its trade deficit with China, Premier William Lai (賴清德) said yesterday.
During a question-and-answer session at a meeting of the Legislative Yuan in Taipei, Chinese Nationalist Party (KMT) Legislator Lai Shyh-bao (賴士葆) asked the premier why Taiwan was not on a list of nations exempted from the US' 25 percent steel and 10 percent aluminum tariffs, which took effect yesterday.
The US seems to be showing more goodwill toward Taiwan, with US President Donald Trump signing the Taiwan Travel Act, which allows high-level visits between officials on both sides, but when it comes to "money talk," Taiwan has not been spared from the US' punishment, Lai Shyh-bao said.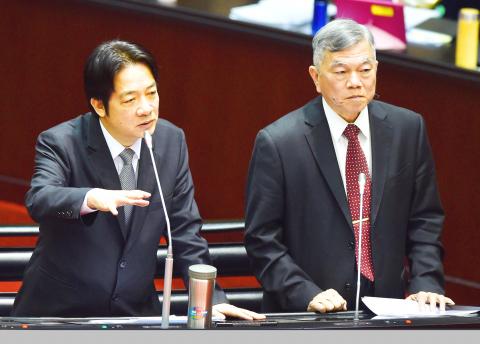 Premier William Lai, left, accompanied by Minister of Economic Affairs Shen Jong-chin, speaks at a question-and-answer session at a meeting of the Legislative Yuan in Taipei yesterday.
Photo: Chien Jung-fong, Taipei Times
Lai Shyh-bao said Minister Without Portfolio John Deng (鄧振中) is inept because he said that Taiwan is unlikely to be exempted from the tariffs before leaving for Washington to negotiate mitigating the effects the tariffs would have on Taiwan.
There are "obvious reasons" that hinder Taiwan from signing trade agreements with the US, regardless of transitions in the nation's administrative power, William Lai said, adding that South Korea was exempted because the two nations renewed their free-trade agreement.
Second-round tariff talks are expected, the results of which are likely to be announced at the end of next month, the premier said.
Lai Shyh-bao quoted central bank Governor Yang Chin-long (楊金龍) as saying that the tariffs could cut the nation's GDP by 0.8 percent, or by 1.8 percent if Beijing takes retaliatory measures.
Since the Taiwan Travel Act has been signed into law, the premier should visit Washington and make it clear to US officials that Taiwan does not want to be part of its trade sanctions, Lai Shyh-bao said.
William Lai confirmed media reports that he would meet with US Deputy Assistant Secretary of Commerce for Manufacturing Ian Steff, who arrived in Taipei on Thursday and is expected to meet with high-ranking officials during his six-day visit.
Lai shyh-bao urged the premier use the opportunity to convey to the US Taiwan's objection to being subjected to the tariffs.
Comments will be moderated. Keep comments relevant to the article. Remarks containing abusive and obscene language, personal attacks of any kind or promotion will be removed and the user banned. Final decision will be at the discretion of the Taipei Times.