AIT teases new complex with minute-long video
The American Institute in Taiwan (AIT) yesterday released a minute-long video promoting its upcoming move from Taipei's Daan District (大安) to Neihu District (內湖).
The video begins with AIT Director Kin Moy in his office inviting viewers to join him on a trip to see the new complex, which is still under construction.
The camera follows Moy to the Taipei Mass Rapid Transit System's Daan Station, where he boards a train and alights at Neihu Station, leaves through Exit 2 and walks along Jinhu Road to the AIT complex on Jinlong Road.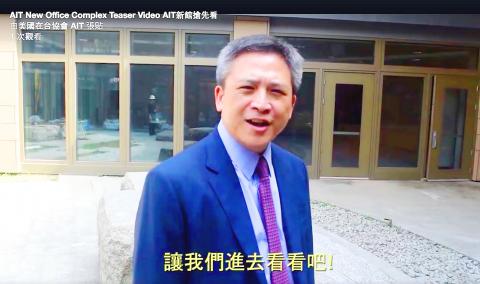 American Institute in Taiwan (AIT) Director Kin Moy stands in front of the institute's new building in Taipei's Neihu District in a video posted on the AIT's Facebook page yesterday.
Photo: screen grab from Facebook
After a brief look at the decorated, curved wall leading to the front doors of the office building, Moy opens one of the doors and the video ends.
Moy said the nearly decade-long project is expected to be completed soon and asked viewers to "stay tuned" as it nears the "finish line."
"As many of you know, we at AIT have been working on an exciting project. All of us are proud that we will bring it to completion later this summer," he said.
Construction of the US$242.6 million compound began in 2009, but work was temporarily suspended in 2013 over a contract dispute about NT$470 million (US$16.1 million at the current exchange rate) in back payment between US-based Weston Solutions and its three Taiwanese subcontractors.
Built on a 6.5-hectare plot, the new facility is to house all of AIT's departments, including the agricultural and commercial sections that are housed in different locations.
After the move, AIT's 2.6-hectare Daan complex is to be returned to the Taipei City Government, which last year said it wanted to build a concert hall and library at the site.
Following the enactment of the US' Taiwan Travel Act on Friday, there has been speculation on whether Washington would send officials to attend the inauguration of the new complex.
Asked whether any US officials would be invited, AIT spokeswoman Sonia Urbom did not give a direct response, saying only that the event was still in the planning stage.
Additional reporting by staff writer
Comments will be moderated. Keep comments relevant to the article. Remarks containing abusive and obscene language, personal attacks of any kind or promotion will be removed and the user banned. Final decision will be at the discretion of the Taipei Times.