Rights advocates call on China to free Tibet
Human Rights Network for Tibet and Taiwan members and other Tibetan rights advocates yesterday called on the Chinese government to free Tibet and allow the Dalai Lama to return home, as they launched a series of events to mark the anniversary of the 1959 Tibetan Uprising.
On Saturday, the group is to hold a march to commemorate the failed Tibetan rebellion against Chinese rule on March 10, 1959, which led to violent crackdowns and the Dalai Lama's exile, network director Lin Hsin-yi (林欣怡) said at a news conference outside the Legislative Yuan in Taipei.
The march is to begin at 1pm at Taipei's MRT Zhongxiao Fuxing Station and finish at Taipei 101, she said.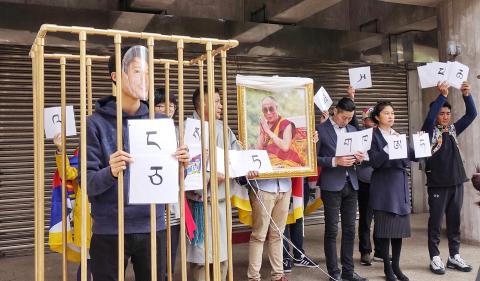 Members of the Human Rights Network for Tibet and Taiwan and other rights groups yesterday perform a skit outside the Legislative Yuan in Taipei urging support for the Dalai Lama's return to Tibet.
Photo: Liu Hsin-de, Taipei Times
An exhibition commemorating the 10th anniversary of the 2008 Tibetan uprising opened yesterday at Liberty Square in Taipei and is to run through Wednesday next week, she added.
"It has been almost 60 years since the [1959] uprising and many Tibetans remain exiled. It is not just the Dalai Lama, all Tibetan exiles should be able to return to their home," said Indian-born Tashi Tsering, who is head of the Taiwanese Tibetan Welfare Association.
"I am a second-generation Tibetan exile. I have never been to my own country," he said.
Tibetans need to being allowed to learn their language and practice their traditional culture in their own country, he added.
The Chinese government has been suppressing minority groups in China in every possible way: culture, languages, arts, environment and Internet censorship, said New Power Party Legislator Freddy Lim (林昶佐), who is head of the Taiwan Parliamentary Group for Tibet.
However, few people have experienced the level of Chinese government suppression that Tibetans have, he said.
The increasingly authoritarian government of Chinese President Xi Jin-ping (習近平) is putting great pressure on all nations in the Asia-Pacific region, and Taiwan, having suffered similar suppression, must stand up for any oppressed minority groups, he added.
"We will continue to work for Tibetan rights through the Taiwan Parliamentary Group for Tibet and by collaborating with the Tibetan parliament-in-exile in Dharamshala, India, as well as the US, Canada, Japan and European countries," Lim said.
Tibet was invaded by China in 1949 and fell under Chinese rule in 1951 after the defeated Tibetan government signed the Seventeen Point Agreement for the Peaceful Liberation of Tibet with Beijing, Lim said.
Comments will be moderated. Keep comments relevant to the article. Remarks containing abusive and obscene language, personal attacks of any kind or promotion will be removed and the user banned. Final decision will be at the discretion of the Taipei Times.