Certificate cannot erase 228 Incident: victim
Hsieh I-cheng (謝一誠), a 228 Incident victim, said that a certificate he is to receive today to restore his reputation cannot erase the pain and torture he experienced during his imprisonment.
Hsieh, 93, grew up in Taichung's Beitun District (北屯) and was drafted to the transport unit of the Japanese military in Taichung when he was 19, where he became familiar with Taichung's arsenal, he said.
On Feb. 28, 1947, the then-Chinese Nationalist Party (KMT) government violently suppressed a nationwide uprising against it and a series of bloody purges against civilians ensued in subsequent months. The event marked the beginning of the White Terror era that saw tens of thousands of people arrested, imprisoned and executed.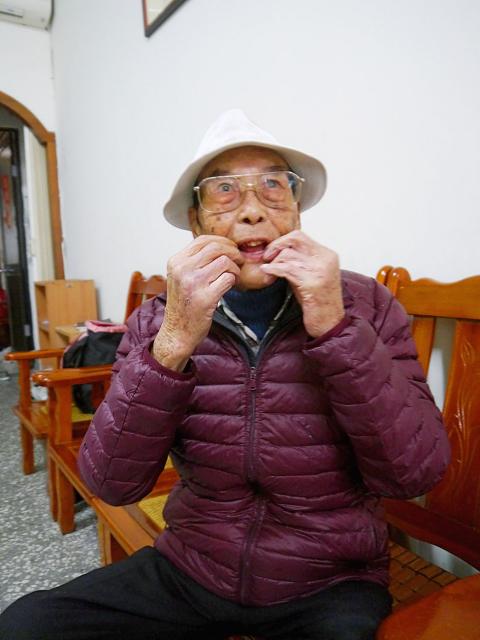 Hsieh I-cheng, who was imprisoned following the 228 Incident in 1947, demonstrates on Friday last week how water was forced into his stomach as he underwent "water cure" torture.
Photo: Chang Hsuan-che, Taipei Times
Hsieh said when he heard the crackdown had spread, he transported firearms and ammunition left behind by the Japanese military in an ammunition depot in Taichung's Dakeng (大坑) to the downtown area to assist the militia.
On March 16, 1947, Hsieh was charged with theft and sentenced to death.
He spent more than two years in a jail in a military camp in Taichung's Gancheng Borough (干城), he said.
"Those two years were a living nightmare," he said.
Hsieh said that he shared a cell with 47 people and that they slept in shifts.
They were given a bowl of rice and two dishes per day and did not have enough water to drink, Hsieh said, adding that to survive the men drank each other's urine.
During the night they were beaten with gunstocks and iron burns, given electric shocks and had buckets of cold water poured over their heads and forced into their mouths with hoses, Hsieh said.
Several times he feared that his stomach would explode, he said.
Hsieh said he was only dragged back to the cell after losing consciousness.
After two years and eight months, Hsieh was transferred to Taichung Prison, where he took his first shower since his imprisonment, he said.
After three-and-a-half years, Hsieh's sentence was reduced and he was released, he said.
As his national identification card was marked with the Chinese characters for "228" (二 二 八) in red, he was required to report to the police every month, he said, adding that he had trouble finding a job until a relative working at the Household Registration Office told him to destroy his old national identification card and request a new one.
Originally named Hsien Yan-shan (謝炎山), Hsieh said he changed his name in the hope of starting a new life.
Hsieh said the Incident had a huge effect on his life
He took pain medication for decades after the torture, which lead to side effects, he said.
When he passes Dakeng today, he often thinks of the ammunition depot, he said.
He chose the numbers "228" as the last three digits of his cellphone number to remind himself of what had happened, he said.
This overdue certificate means nothing, Hsieh said, adding that he did what he did during the Incident because he loved Taiwan.
Comments will be moderated. Keep comments relevant to the article. Remarks containing abusive and obscene language, personal attacks of any kind or promotion will be removed and the user banned. Final decision will be at the discretion of the Taipei Times.