Two more KMT members bid to be Taipei mayor
CROSS-STRAIT GOAL: Chang Hsien-yao wants to use the nation's capital as a new engine to reinitiate cross-strait cooperation and alleviate current tensions
Two more Chinese Nationalist Party (KMT) members have announced bids to be the party's candidate in November's Taipei mayoral election, further intensifying an already competitive race.
Former KMT legislator Sun Ta-chien (孫大千) yesterday announced his bid on Facebook, unveiling the theme of his campaign, "Finding 'P.'"
"In Taipei, you can easily find the 'P' sign. It used to mean 'parking,' but in 2018 it means something different," said Sun, a four-term lawmaker who failed to win re-election in 2016.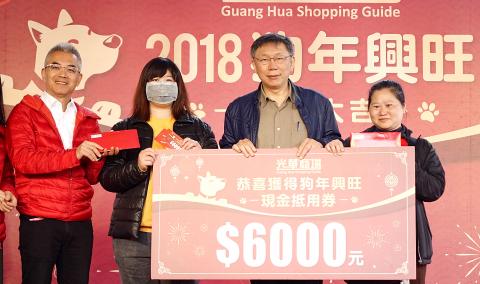 Taipei Mayor Ko Wen-je, second right, presents NT$6,000 vouchers to prize draw winners at yesterday's reopening of the Guang Hua Digital Plaza following the Lunar New Year holiday.
Photo: Chang Chia-ming, Taipei Times
Sun said the best way to overcome adversity is by attaching new meanings to things, which is why the "P" sign should stand for "purity" this year.
According to the former lawmaker's vision for the capital, Taipei should be "a city of quality and a brand of love" that shares resources with other parts of Taiwan, unites with other Chinese cities, creates the biggest e-market in Asia, and brings positive energy to the world.
"What kind of mayor do we need in Taipei? A celebrity-like mayor? A mayor with the support of a party? Or a mayor elected without stardom and election resources, a pure mayor?" Sun wrote.
Sun's remarks were an apparent criticism of Taipei Mayor Ko Wen-je (柯文哲), an independent supported by the Democratic Progressive Party in the 2014 elections whose remarks often make headlines.
Meanwhile, former Mainland Affairs Council deputy minster Chang Hsien-yao (張顯耀) yesterday also announced his bid, saying his bid would stop an incompetent, chaos-causing mayor from winning a second term.
"The residents of Taipei have tolerated Ko's deviancy for too long and have paid dearly for this political novice... It is time to say no to Ko and take back their power," Chang said in a news release.
Chang said his goal was to transform Taipei into a city on a par with any developed city in the world, as well as to use the capital as a new engine to reinitiate cross-strait cooperation and alleviate the current tensions across the Taiwan Strait.
With Sun and Chang, the KMT now has five aspirants for the Taipei mayor, including former legislator Ting Shou-chung (丁守中), former Cabinet spokeswoman Cheng Li-wun (鄭麗文) and Taipei City Councilor Chung Hsiao-ping (鍾小平).
The party's candidate is expected to be decided by an opinion poll next month.
Comments will be moderated. Keep comments relevant to the article. Remarks containing abusive and obscene language, personal attacks of any kind or promotion will be removed and the user banned. Final decision will be at the discretion of the Taipei Times.