Lu edges Chiang for KMT's Taichung nomination
NARROW MARGIN: The primary was close — Lu Shiow-yen received 50.308 percent and Johnny Chiang 49.692 percent — but both had agreed to accept the poll results
Chinese Nationalist Party (KMT) Legislator Lu Shiow-yen (盧秀燕) yesterday defeated KMT Legislator Johnny Chiang (江啟臣) by a margin of less than 1 percent in opinion polls for the party's primary for November's Taichung mayoral election.
In an average of three separate surveys, Lu received a support rate of 50.308 percent, while Chiang garnered 49.692 percent, KMT Organizational Development Committee director Lee Che-hua (李哲華) told reporters at the party's headquarters in Taipei, following the unveiling of the results to the two candidate aspirants.
Asked whether the incredibly small margin could complicate the nomination process, Lee said that Lu and Chiang are mature politicians and that the nomination process would be carried out in accordance with a previous agreement.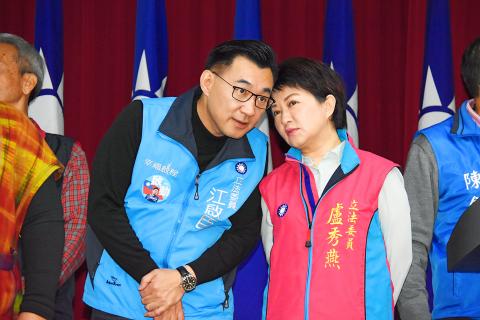 At a Taichung City caucus event on Jan. 28, Chinese Nationalist Party (KMT) lawmaker Johnny Chiang, left, listens to fellow KMT lawmaker Lu Hsiu-yen, a competitor in the KMT's primary for the Taichung mayoral election.
Photo: Lee Chung-hsien, Taipei Times
"An agreement was made during a previous meeting of the party headquarters' nomination negotiation committee, which was to make the nomination based on poll results," Lee said.
As the party's Taichung chapter is required to convene a meeting on the matter, the official nomination of Lu is expected to be passed and announced by the KMT Central Standing Committee after the Lunar New Year holiday next week, he said.
Days before the publication of the results, speculation emerged that Chiang was KMT Chairman Wu Den-yih's (吳敦義) preferred Taichung mayoral candidate, because Chiang's father-in-law had lent the party NT$30 million (US$1.02 million) to assuage the party's financial straits.
Born in Keelung in 1961, Lu is married to former Taichung city councilor Liao Shu-chia (廖述嘉). A journalist-turned-politician, she dipped her feet into politics in 1994 when she served on the Taiwan Provincial Consultative Council and is currently serving her sixth term as a lawmaker, representing Taichung's fifth electoral district.
"Winning the opinion polls is just one small step toward winning Taichung. The road ahead is extremely formidable, as the KMT, as an opposition party, does not enjoy as many resources," Lu said.
However, Lu expressed her "strong confidence" in creating a miracle with the support of Taichung voters.
She also lauded Chiang for his democratic demeanor, saying that she planned to hire the rising star as her campaign director.
Chiang, who is serving his second term as a legislator, later yesterday told a news conference that he respected the results of the polls and that he would continue listening to public opinion in the hope of making Taichung a better place.
As for Lu's job offer, Chiang said position did not matter, but pledged to help the KMT regain control of the six special municipalities.
Comments will be moderated. Keep comments relevant to the article. Remarks containing abusive and obscene language, personal attacks of any kind or promotion will be removed and the user banned. Final decision will be at the discretion of the Taipei Times.