Frog game illustrates desire for company, simple life: experts
The popularity of a mobile game about a traveling pet frog highlights people's desire for companionship and a simple life, local psychologists said.
The Japanese mobile game Tabikaeru, or Travel Frog, allows players to care for a pet frog as it spends its days traveling, reading and eating.
It has recently become very popular in Taiwan, with many gamers posting snapshots of their frogs on social media.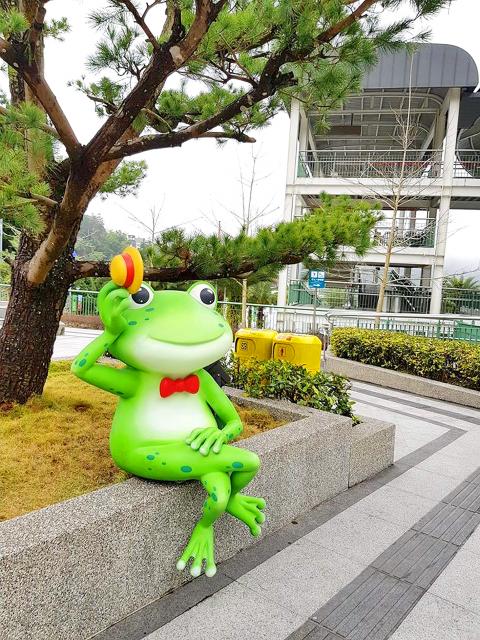 A statue of a frog is pictured at the Sun Moon Lake Ropeway Station on Feb. 1. The frog is the main character in an interactive activity held by the Sun Moon Lake Scenic Area Administration based on the popular Japanese mobile game "Tabikaeru."
Photo copied by Liu Pin-chuan, Taipei Times
Players collect clovers grown in the frog's garden in order to buy supplies for the pet when it travels where and when it chooses, and they receive occasional postcards during its trips.
The game is exactly the opposite of others on the market, because the player is not the main character nor do they have control over it, Mackay Memorial Hospital counseling psychologist Lo Hui-chun (羅惠群) said.
Therefore, what players look for in the game is a relationship with the frog, a connection based on altruistic acts of providing for the frog, which gives them joy, Lo said.
The appeal of the simplicity of the game, with no challenges to overcome or levels to complete, is indicative of people's longing for a simple life, National Taiwan University Hospital psychiatrist Lin Yu-hsuan (林煜軒) said.
In an age of so much information, the simplicity of the game allows users to relax, Lin said.
Although the game is available only in Japanese, this has not slowed its popularity in Taiwan.
Since its release in November, online searches in Taiwan for frogs, clovers and other items that might be related to aspects of the game have become 70 times more frequent, online shopping platform friDay said.
Domestic sales of frog-shaped toys and other items have also increased 60 percent, the platform said.
Comments will be moderated. Keep comments relevant to the article. Remarks containing abusive and obscene language, personal attacks of any kind or promotion will be removed and the user banned. Final decision will be at the discretion of the Taipei Times.