Hualien tourist numbers rise, but spending lags
SHORT TRIPS: Although the number of visitors last year shot up, surveys showed that many went for a one-day trip, which did not benefit hotels and guesthouses
The number of visitors to Hualien County exceeded 10 million last year, despite a decrease in the number of Chinese tourists to the area, statistics released on Monday by the Hualien Tourism Department showed.
Last year, the 12 major tourist attractions in the county saw a combined total of 10.27 million visitors, an increase from 9.55 million visitors in 2016, the department said, adding that this was still a lower number than 2014's 10.88 million.
Taroko National Park continued to attract the most visitors at 4.65 million, a 2.8 percent increase from 4.52 million in 2016, the department added.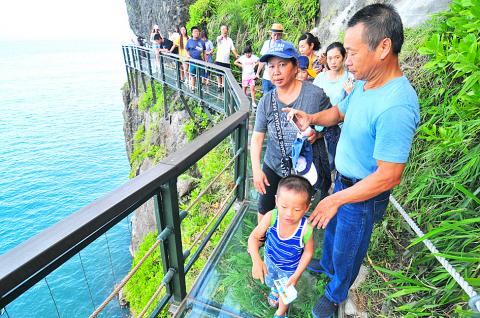 Tourists crowd the Cinbujhihzih Walk, a newly opened tourist attraction with a breathtaking view of the Pacific Ocean, in Hualien County's Fongbin Township on Sunday.
Photo: Hua Meng-ching, Taipei Times
Coming in second was Cisingtan (七星潭), which attracted 1.35 million visitors last year, it said.
The Cinbujhihzih Walk (親不知子海上古道) — a new attraction in Fongbin Township (豐濱) that opened last year — saw nearly 170,000 visitors in its first four months, it said.
The total number of visitors rose, mainly because the number of people who went on a one-day trip to the county increased, department acting director Peng Wei-tsu (彭偉族) said.
Visitors did not stay overnight and their local spending was not high, Peng said.
Although the number of visitors last year shot up, surveys showed that South Korean visitors only went to Hualien for one-day tours of Taroko National Park and Cisingtan, Peng said, adding that hotels and guesthouses did not benefit.
Hualien plans to participate in tourism fairs abroad to boost its marketing, Peng said, adding that he hoped to increase the number of days international visitors stay in the county.
The Ministry of Transportation and Communications and the Taiwan Railways Administration have been working together with Hualien business owners to push travel packages that include transportation and accommodation to reduce the difficulty of purchasing train tickets to the area and increase hotel occupancy rates at the same time, Peng said.
Tourism-oriented businesses should grasp changing trends and innovate, expand their customer base and work with other industries, said Executive Yuan Eastern Taiwan Joint Services Center Executive Director Hsu Chuan-sheng (許傳盛), who is a former director of Kaohsiung's Tourism Bureau.
The MICE — meetings, incentives, conventions and exhibitions — industry is a high value-added business, Hsu said.
The government should encourage the Hualien Tzu Chi Hospital, National Dong Hwa University and other organizations to host international conferences, Hsu said.
Attendees could then extend their stay in Hualien for leisure purposes, he said.
"As a major tourism destination, Hualien should maintain high standards and find unique local traits," Hsu said, adding that would be its real advantage.
Comments will be moderated. Keep comments relevant to the article. Remarks containing abusive and obscene language, personal attacks of any kind or promotion will be removed and the user banned. Final decision will be at the discretion of the Taipei Times.