Parents' associations up in arms over sex-ed books
Parents' associations yesterday criticized several junior-high and high school sex education textbooks for including "inappropriate and misleading" information about sex and gender issues.
The National Alliance of Presidents of Parents' Associations and several local parents' associations have rated junior-high and high school sex education textbooks for the spring semester based on whether the content meets students' age-specific needs.
The health and nursing textbook for high-school students published by Yuida received the lowest score, mainly for introducing "diversified conceptions of gender" and a section on sex videos, association standing director Yang Chun-tsu (楊郡慈) said.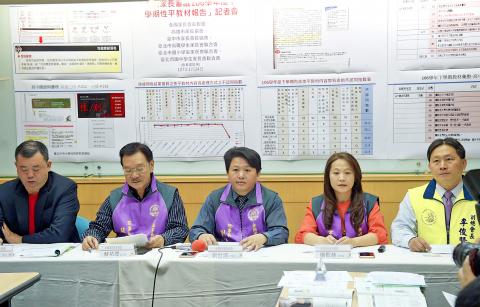 National Alliance of Presidents of Parents' Associations president Liu Shih-hung, center, and other representatives of the association yesterday release the results of a survey showing parental dissatisfaction with gender-equality education for primary and secondary-school students.
Photo: Huang Yao-cheng, Taipei Times
The section features a picture of US celebrity Paris Hilton on the cover of Elle magazine, with a caption that reads: "While a US artist has become extremely famous because of her leaked sex video, a Hong Kong artist's leaked selfies caused great controversy among the Chinese-speaking community."
The section also asks students to express their views on whether it is a good idea to film themselves having sex and explains the legal consequences of distributing sex videos.
Two other health and nursing textbooks for high-school students, published by Yuida and Youth, were criticized for including a link to the Web site of National Central University's (NCU) Center for the Study of Sexualities.
The Web site contains information about necrophilia, zoophilia, sadomasochism and group sex, said Wang Li-sheng (王立昇), who heads the association's think tank.
"Those things are not normal and many of us do not even know what they are. Why should our kids be given that information? It could be misleading," he said.
The Web site has several databases containing research on a wide range of subjects related to sexuality, as well as sex education material designed for teenagers.
Parents also called for removing a sentence in Han Lin Publishing's health and physical education textbook for eighth-grade students that says sexual needs should be satisfied on condition of mutual respect, mutual consent and without hurting others.
"The sentence is inappropriate because the legal age for sexual intercourse is 16," Wang said.
NCU honorary professor and convener of the Center for the Study of Sexualities Josephine Ho (何春蕤), who founded the Web site, said the parents' associations appeared to have merely scanned through the Web site without truly understanding the content and its context.
"What kind of examples are parents setting for their kids when they are uninterested in knowledge and choose to ignore social realities?" she asked, adding that high-school students are almost adults, and maintaining a closed and obscurantist approach to any knowledge about sex could be a huge problem.
"Are parents not worried that kids might try to force or hurt others to satisfy their own sexual needs if they never learned the importance of mutual consent and respect in sex when they were in school?" she asked.
Comments will be moderated. Keep comments relevant to the article. Remarks containing abusive and obscene language, personal attacks of any kind or promotion will be removed and the user banned. Final decision will be at the discretion of the Taipei Times.