Defense ministry to cease reporting PLA maneuvers
'REGULAR OCCURRENCE': Chinese movements close to Taiwan have become routine, but have not violated the nation's air defense identification zone, the ministry said
The Ministry of National Defense will no longer issue reports on movements of Chinese military aircraft or naval vessels near Taiwan, unless something unusual occurs, Minister of National Defense Feng Shih-kuan (馮世寬) said yesterday.
The decision was made "because the ministry will not dance to China's tune as it tries to use psychological warfare against Taiwan," Feng told reporters.
Several Chinese aircraft were seen passing near Taiwan at 4:40pm on Wednesday, passing through the Bashi Channel to the south then heading north before flying over the Miyako Strait, which lies between two Japanese islands, on their way back to China after apparently conducting training missions in the western Pacific, the defense ministry said later that day.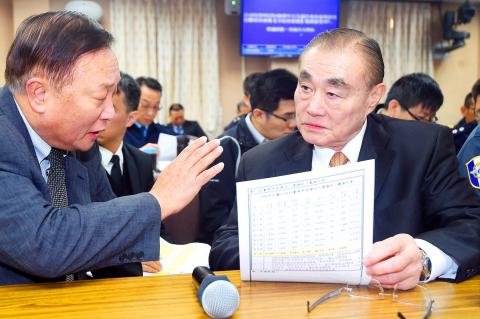 Minister of National Defense Feng Shih-kuan, right, attends a Foreign Affairs and National Defense Committee meeting at the Legislative Yuan in Taipei yesterday.
Photo: Liao Chen-huei, Taipei Times
It said that it would not be issuing any follow-up statements, as it appears to have become a regular occurrence for Chinese military aircraft and vessels to fly on the route for long-distance training missions.
Feng yesterday also dismissed as "gossip" a report by Chinese-language newspaper Apple Daily that an amateur radio operator recorded verbal exchanges between the pilot of an approaching Chinese military aircraft and the pilot of a Taiwanese aircraft dispatched to intercept it.
In the recordings, which were published on the newspaper's Web site, the alleged Taiwanese pilot can be heard telling the Chinese aircraft to "turn around."
Asked if the Chinese aircraft had entered Taiwan's air defense identification zone as reported, Feng asked: "How could that be possible?"
Wednesday's exercise was the 10th by the People's Liberation Army Air Force since the conclusion of the Chinese Communist Party's 19th National Congress in October, according to ministry data.
The ministry would follow regular readiness procedures in response to China's increased military activity near Taiwan, based on the principles of "not taking provocative action, not triggering a conflict and reducing antagonistic behavior," ministry spokesman Major General Chen Chung-chi (陳中吉) said yesterday.
"We do not seek a battle, but we will not avoid one," Chen said.
He also thanked the US for reaffirming its commitment to selling defensive weapons to Taiwan under the Taiwan Relations Act.
When asked to comment on Wednesday's Chinese military activities, Pentagon spokesman Lieutenant Colonel Christopher Logan said the US would steadfastly support Taiwan's self-defense capability by providing arms of a defensive nature and would maintain its own capacity to resist the use of force or other forms of coercion that would jeopardize the security, or social or economic system, of the people of Taiwan.
"The objective of our defense engagement with Taiwan is to ensure that Taiwan remains secure, confident, free from coercion and able to engage in a peaceful, productive dialogue to resolve differences in a manner acceptable to the people on both sides of the Taiwan Strait," Logan said in an e-mail to the Central News Agency.
Comments will be moderated. Keep comments relevant to the article. Remarks containing abusive and obscene language, personal attacks of any kind or promotion will be removed and the user banned. Final decision will be at the discretion of the Taipei Times.