Kaohsiung makes public transport free
Kaohsiung is launching a three-month free public transportation program today to combat the heavy air pollution that often plagues the city at this time of year.
Kaohsiung Mayor Chen Chu (陳菊) at a news conference on Tuesday announced that public transportation will be free for all electronic ticket users.
The program, proposed by the Kaohsiung Environmental Protection Bureau, allows users of electronic tickets, such as iPASS or EasyCard, to take city buses, intercity buses and light-rail trains for free, Chen said.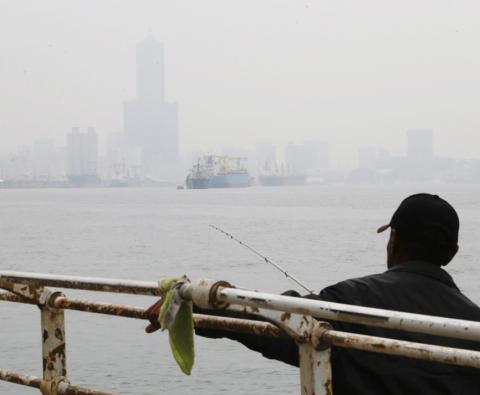 A man looks at the haze-shrouded skyline in Kaohsiung yesterday.
Photo: CNA
Electronic ticket users can ride the Kaohsiung Mass Rapid Transit (KMRT) system for free on weekdays from 6:30am to 8:30am and from 4:30pm to 6:30pm, she said.
Air pollution in Kaohsiung is particularly severe from December to February, Chen said, adding that the city government has been trying to address the problem by encouraging people to use public transportation.
Bureau Director Tsai Meng-yu (蔡孟裕) said the program is the first of its kind in Taiwan and would cost about NT$200 million (US$6.66 million).
The program could increase ridership on city buses by 1.76 million users, on intercity buses by 70,000 and on the KMRT by 1.6 million, Tsai said, adding that it is projected to reduce carbon dioxide emissions by 16,000 tonnes.
City officials yesterday said that 65 percent of the city's air pollution comes from overseas, with factories (38 percent), construction sites (24 percent) and vehicles (38 percent) accounting for the remaining 35 percent of pollution that is produced locally.
The bureau said it has managed to control all sources of pollution except vehicles, which is why it was introducing the free public transportation program.
In related news, poor air quality in southern Taiwan is expected to continue into the weekend, the Environmental Protection Administration (EPA) said yesterday, urging sensitive groups to avoid outdoor activities as a precaution.
As of noon yesterday, air quality in the north, particularly in Taoyuan, Hsinchu County and Miaoli County and central Taiwan, had improved significantly from Wednesday, when most of the nation was subject to high levels of PM2.5 — airborne particles measuring 2.5 micrometers or less — the EPA's Taiwan Air Quality Monitoring Network showed.
The Air Quality Index (AQI) was green (good air quality) or yellow (fair to good) in those areas.
However, the AQI remained orange at six monitoring stations in the south — including Yunlin, Chiayi and Pingtung counties, as well as Tainan and Kaohsiung — meaning that the air quality in those areas remains unhealthy.
A red index was recorded at 12 monitoring stations in those areas, indicating that the poor air quality poses a threat to sensitive groups such as children, seniors and people with heart, respiratory and cardiovascular ailments.
With the red index expected to remain for Kaohsiung and Pingtung until tomorrow, the EPA advised residents in those areas to minimize physical activities if they experience eye irritation, coughing or a sore throat, or to wear a mask when outdoors.
The EPA's AQI takes into account ozone, PM2.5 and PM10 particulates, carbon monoxide, sulfur dioxide and nitric oxide concentrations in the air.
Additional reporting by Ko Yu-hao
Comments will be moderated. Keep comments relevant to the article. Remarks containing abusive and obscene language, personal attacks of any kind or promotion will be removed and the user banned. Final decision will be at the discretion of the Taipei Times.