'New immigrant' languages taught in pilot program
Native languages of new immigrants are being taught in elementary schools for the first time under a trial program that began in August, the Ministry of Education said.
Forty-four schools in 15 cities are offering a total of 58 classes, the majority of which — 43 — are Vietnamese instruction, it said.
Hengchun Elementary School in Pingtung County is offering five classes in Filipino, Indonesian and Vietnamese, while in New Taipei City, Beisin Elementary School is offering Malaysian and Burmese, Sanzhi Elementary School offers Cambodian, and Thai is offered at Danfeng Elementary School and Shalun Elementary School.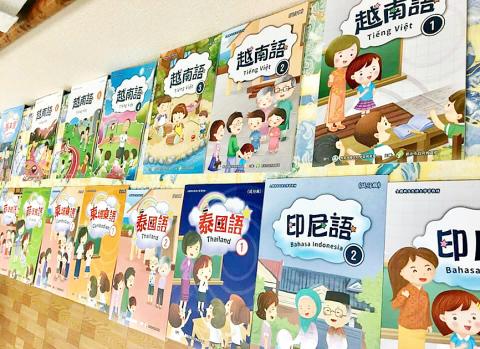 Textbooks for "new immigrant language" courses are displayed at the Ministry of Education in an undated photograph.
Photo courtesy of the Ministry of Education
The ministry said the new courses are being offered based on the needs and requests of the students, adding that the trial period will last until January.
A program for "new immigrant language" courses is to be officially implemented in the 2019 school year, K-12 Education Administration Director-General Chiu Chien-kuo (邱乾國) said.
A native language course will be a requirement in elementary school and an elective in junior-high school, while Southeast Asian languages will be incorporated into the second foreign language option for high schoolers, he said.
Until then, students can choose between Hakka, Hoklo (also known as Taiwanese), or an Aboriginal language, the ministry said.
A Southeast Asian language option is being added to the native language requirement in the new curriculum of the 12-year Basic Education program.
"New immigrant languages" are important resources for Taiwan's overseas development and partnerships, while learning about the languages and cultures of Southeast Asian and other nations can help children to think globally, Chiu said.
Learning a Southeast Asian language can increase children's ability to communicate across cultures and pursue cross-national activities, Chiu added.
Nearly 200,000 elementary or junior-high schools students have a parent who is a new immigrant, the ministry said.
About 70,000 of those have a parent who is Chinese, nearly 80,000 have a parent who is Vietnamese and about 20,000 have a parent from Indonesia, while most of the remainder have a parent from other Southeast Asian nations.
The editing and revision of the first and second volumes of teaching material for the seven "new immigrant languages" have been completed, while for Vietnamese, the revision is finished up to the 10th volume, the ministry said.
It said it is working to train teachers for the new course, with the primary goal to train assistant teachers,and have officially certified teachers serve as back-up support, adding that 1,313 have been trained as assistant teachers since last year.
National Chi Nan University is to offer courses to train and certify teachers of Southeast Asian languages by allowing students enrolled in its teacher certification program to pursue two majors, the ministry said.
Teachers with official teaching certification in a Southeast Asian language will be available by 2019 at the earliest, it added.
Comments will be moderated. Keep comments relevant to the article. Remarks containing abusive and obscene language, personal attacks of any kind or promotion will be removed and the user banned. Final decision will be at the discretion of the Taipei Times.