Women worried about economic pressure: KMT poll
Women in Taiwan are most concerned about economic pressures, while nearly 20 percent do not think that having a female president has improved the social status of women, a survey conducted by the Chinese Nationalist Party (KMT) found.
KMT Legislator Ko Chih-en (柯志恩), director of the party's Women's Department, yesterday presented the results of a poll that surveyed women older than 20 about what issues most concern them.
Respondents were asked to answer questions using a six-point scale, with zero being the lowest and five the highest, Ko said.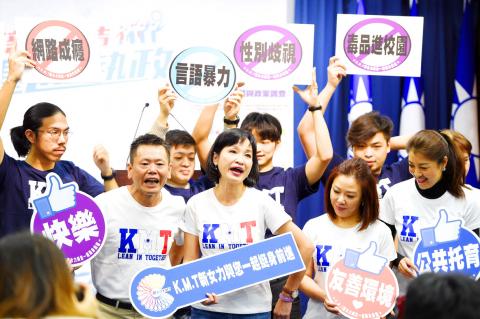 Chinese Nationalist Party (KMT) Legislator Ko Chih-en, front center, and other party lawmakers present results of a survey on women's issues at a news conference in Taipei yesterday.
Photo: George Tsorng, Taipei Times
Asked if they felt economic pressure, 80.1 percent of respondents answered three or higher, with an average of 3.4 points, Ko said.
"In relation, we really care about whether women are treated equally in their workplaces; this includes receiving equal salaries and opportunities for promotion," Ko said, adding that the survey did not show clear satisfaction or dissatisfaction with progress in moving toward gender equality in the workplace.
A majority of respondents viewed verbal abuse and sexual harassment as relatively serious issues, with 74.1 percent scoring these issues at three points or higher.
An average score of 2.2 was given for the question about whether having a female president — President Tsai Ing-wen (蔡英文) — improved women's rights and enhanced the social status of women, while 19.5 percent of respondents even gave the question a zero, Ko said.
KMT Legislator Hsu Shu-hua (許淑華) said the results indicated that while Tsai has accomplished her own political goals, "gender equality has not been achieved for women in Taiwan."
The survey also showed an average score of 1.7 regarding the government's efforts to solve the problem of low salaries, and while 66.8 percent gave a score of between zero and two points, 24.6 percent answered zero, indicating that most women are not satisfied, Ko said.
Satisfaction towards public preschool and education policies both scored below three points, she said, adding that most women agree that Internet or smartphone addiction is becoming a serious problem for children, with an average score of 4.5, Ko said.
The Women's Department said there are five issues that women are notably against: sexual discrimination, verbal abuse, sexual harassment in the workplace, drugs on campuses and online addiction.
There are also "five wants:" confidence, happiness, health, a friendly environment and better public preschools, it said.
Comments will be moderated. Keep comments relevant to the article. Remarks containing abusive and obscene language, personal attacks of any kind or promotion will be removed and the user banned. Final decision will be at the discretion of the Taipei Times.