DPP legislator points finger at former administration
Democratic Progressive Party (DPP) Legislator Wang Ding-yu (王定宇) yesterday accused former Presidential Office deputy secretary-general Hsiung Kuang-hua (熊光華) and former Executive Yuan secretary-general Chien Tai-lang (簡太郎) of serving as intermediaries for financially troubled Ching Fu Shipbuilding Co.
The shipbuilder has been embroiled in a fraud scandal over a contract that it won from the Ministry of National Defense in October 2014 to build six minesweepers for the military at a cost of NT$34.9 billion (US$1.16 billion at the current exchange rate).
To finance the construction, Ching Fu obtained a syndicated loan of NT$20.5 billion from a group of nine domestic lenders led by First Commercial Bank.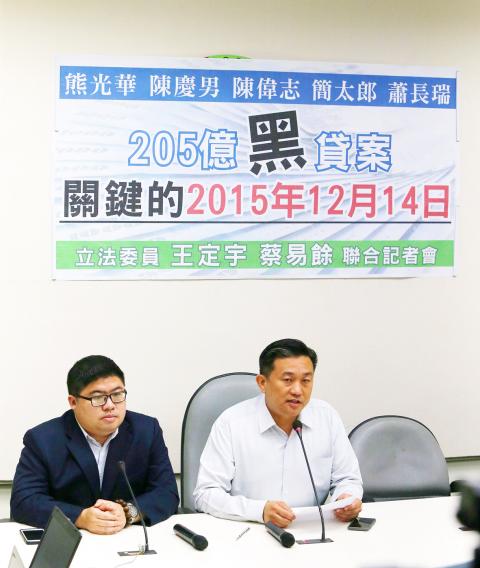 Democratic Progressive Party legislators Tsai Yi-yu, left, and Wang Ding-yu hold a news conference at the Legislative Yuan yesterday, accusing former Presidential Office deputy secretary-general Hsiung Kuang-hua and former Executive Yuan secretary -general Chien Tai-lang of playing a role in the Ching Fu Shipbuilding loan fraud scandal.
Photo: CNA
However, an investigation initiated by prosecutors in August found that Ching Fu might have used bogus documents to falsify four capital increases that were required as part of the terms of the loan.
The controversy has seen DPP and Chinese Nationalist Party (KMT) lawmakers trading barbs over who used their influence to help Ching Fu obtain the syndicated loan, of which NT$15.4 billion had already been disbursed.
Hsiung and Chien served under the administration of then-president Ma Ying-jeou (馬英九).
Wang called for an investigation into Ma and then-vice president Wu Den-yih (吳敦義), now the KMT chairman.
He said that either Ma or Wu must have given the order and prosecutors should summon the two for questioning.
Wang claimed that on Dec. 14, 2015, Hsiung called Chien and then-Bank of Taiwan president Shiau Chang-ruey (蕭長瑞) to the Presidential Office Building for a meeting and instructed the two to apply pressure on banks and other government agencies to facilitate the loan.
Shiau allegedly called a person at the Bank of Taiwan handling loans, after which the bank, which previously said it would not participate in the syndicated loan, announced that it would extend a loan of NT$1billion to Ching Fu.
Wang quoted the person at the bank as allegedly saying: "The president wants it done."
Hsiung called the allegations "baseless accusations."
Hsiung said he did meet with Shiau to discuss a petition by the family of former president Yan Chia-kan (嚴家淦) to restore Yan's official residence, which the bank owns.
Hsiung said that Ministry of Culture Cultural Heritage Bureau Director-General Shy Gwo-lung (施國隆) was present at the discussion.
Additional reporting by Shih Hsiao-kuang and CNA
Comments will be moderated. Keep comments relevant to the article. Remarks containing abusive and obscene language, personal attacks of any kind or promotion will be removed and the user banned. Final decision will be at the discretion of the Taipei Times.