Tsai's cross-strait policy tops survey
RECOVERING APPROVAL: The results suggest that Tsai's administration has been given a mandate to continue to handle cross-strait relations, a DPP lawmaker said
President Tsai Ing-wen's (蔡英文) cross-strait policy has an approval rate of about 45 percent, higher than those of Chinese Nationalist Party (KMT) chairman Wu Den-yih (吳敦義) and Taipei Mayor Ko Wen-je (柯文哲), according to a survey released yesterday.
A poll conducted by the Cross-Strait Policy Association gave respondents a description of Tsai's, Wu's and Ko's cross-strait narratives before asking whose policy they prefer.
According to the results, 44.8 percent of the respondents said they approve of Tsai's policy the most, while 28 percent favored Ko's and 18.3 percent preferred Wu's.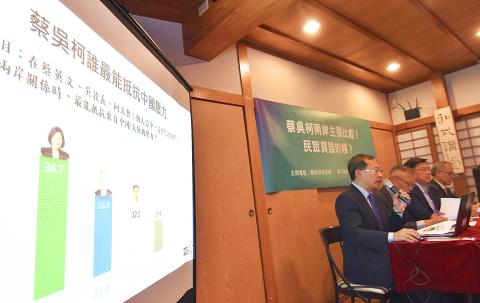 Cross-Strait Policy Association director-general Tan Yao-nan, left, announces the results of the association's latest opinion poll on cross-strait policy at a news conference in Taipei yesterday.
Photo: Photo: Liu Hsin-de, Taipei Times
Tsai's cross-strait policy aims at maintaining the "status quo" and her administration would not change its position, promises and goodwill toward China while not succumbing to pressure or returning to confrontation.
Wu's is the so-called "1992 consensus," stressing the "one China" principle and the "different interpretations" framework.
Ko frames the cross-strait relations as "a family" and a "community of common destiny," according to the description.
The survey found that 60.3 percent of respondents said Tsai's China policy is about keeping the "status quo" and 33.1 percent said it has a pro-independence bent.
Wu's cross-strait policy is also aimed at keeping the "status quo," 47.9 percent of respondents said, while 37 percent said it leans toward unification.
While 55.7 percent said Ko's narrative is aimed at keeping the "status quo," 27.3 percent said it has a pro-unification bent.
Tsai's China policy is the policy most capable of protecting Taiwan's sovereignty and national interests compared with the policies of the others, according to 43.2 percent of the respondents, while 23.9 percent said Wu's policy is the most capable and 20.8 percent favored Ko's.
Tsai is the most capable of the three in resisting Beijing's pressure when conducting cross-strait relations, 36.7 percent of respondents said, while 26.3 percent said it is Wu and 22.1 percent chose Ko.
Democratic Progressive Party (DPP) Legislator Chao Tien-lin (趙天麟) said the majority has approved of Tsai's policy of maintaining the "status quo," while Ko's "family" motif is more popular than the "1992 consensus," suggesting narratives derived from the "one China" principle have lost their effect.
Wu was ranked above Ko in terms of his ability to protect Taiwan's interests, suggesting pan-green camp voters have come to understand Ko's political stance as "centrist with a pro-unification bent," Chao said.
"Ko has turned from dark-green to light-red," National Taiwan Normal University professor Fan Shih-ping (范世平) said of Ko's perceived political shift from a pro-localization position to a Beijing-friendly stance.
"Due to the waning [effect] of the Sunflower movement and the KMT-dominant electoral structure of Taipei, Ko, who has been criticizing the DPP, can be understood as trying to court deep-blue and light-blue voters," Fan said.
"It appears that Ko is successful," he added.
According to the poll, 72.6 percent said the Chinese government has been unfriendly toward Taiwan since the DPP administration took office in May last year, while 22.2 percent said it has been friendly.
Tsai should continue to lead the nation, 50.2 percent of respondents said, while 44.6 percent said she should not.
According to the survey, 50.3 percent said they were dissatisfied with Tsai's performance, while 45.6 percent said they were satisfied.
The results suggest that Tsai's approval rating and satisfaction rate have rallied, with her administration being given the mandate to continue to handle cross-strait relations, Chao said.
The survey, conducted between Wednesday and Thursday, collected 1,072 valid samples and has a margin of error of 2.99 percentage points.
The "1992 consensus" refers to a tacit understanding between the KMT and Beijing that both sides of the Taiwan Strait acknowledge there is "one China," with each side having its own interpretation of what "China" means. Former Mainland Affairs Council chairman Su Chi (蘇起) said in 2006 that he had made up the term in 2000.
Comments will be moderated. Keep comments relevant to the article. Remarks containing abusive and obscene language, personal attacks of any kind or promotion will be removed and the user banned. Final decision will be at the discretion of the Taipei Times.