FAT towing incident at Songshan delays flights
FINES POSSIBILE: One plane suffered damage to its horizontal stabilizer and has been grounded for repairs, while the other was cleared for use after an inspection
Far Eastern Air Transport (FAT) could be fined up to NT$3 million (US$99,321) for a towing collision yesterday involving two of its aircraft that delayed flights at Taipei International Airport (Songshan airport).
A FAT MD-80 being towed out of a maintenance hangar at about 6am hit a parked plane, the Civil Aeronautics Administration (CAA) said, leading to 13 domestic flights being delayed and affecting about 1,000 passengers.
CAA Flight Standards Division director Clark Lin (林俊良) said the airline's ground crew was towing aircraft B-28035 when its horizontal stabilizer hit aircraft B-28021, which was parked at the hangar.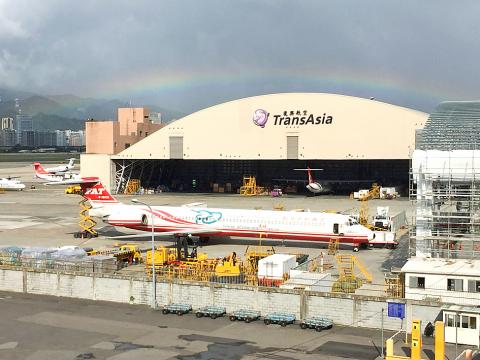 A Far Eastern Air Transport airplane is parked on the apron at Taipei International Airport (Songshan airport) yesterday as it undergoes inspection following a minor collision with another aircraft early in the morning.
Photo: CNA
While the exterior of the parked plane showed barely any damage, the horizontal stabilizer on B-28035 was damaged, and the airline needed to remove the wing tip to repair it, Lin said.
After an inspection, the airline was given permission to resume using B-28021 at 1pm, he said.
"B-28021 does not have any external damage and was permitted to fly after inspections by Boeing Co and the CAA. However, the airline will have to suspend operations of B-28035 because its horizontal stabilizer was damaged," Lin said.
The agency is investigating the cause of the incident, and if it is determined that the airline violated aviation regulations, it could be fined between NT$600,000 and NT$3 million, and the airline's ground crew could be fined between NT$60,000 and NT$300,000, he said.
Far Eastern Air apologized to its passengers for the inconvenience.
It promised to provide food, water and other supplies to passengers whose flights were delayed and help them transfer to flights on other airlines if there were seats available.
Lin added that the airline has an older fleet, and the agency has capped its flight hours for safety reasons.
FAT has eight MD-80s, six of which are 20 years old or older, with the other two almost as old.
The airline's flights would be suspended if it has trouble maintaining flight safety, Lin said.
"The company has standardized operating procedures about how to tow an aircraft out of the hangar. You have one person who is charge of towing the aircraft, and ground crew on both sides of the aircraft to look out for other airplanes while it is moving out of the hangar," he said. "The collision must have happened because of human error. How the collision happened will be the focus of our investigation."
At issue is whether a lack of training or or a disciplinary issue contributed to the incident, the CAA said.
Additional reporting by CNA
Comments will be moderated. Keep comments relevant to the article. Remarks containing abusive and obscene language, personal attacks of any kind or promotion will be removed and the user banned. Final decision will be at the discretion of the Taipei Times.