Hualien chief Fu Kun-chi charged with tax evasion
Prosecutors yesterday indicted Hualien County Commissioner Fu Kun-chi and his chief secretary, Yen Hsin-chang (顏新章), on charges of tax evasion and perjury relating to a financial dispute over the Promised Land Resort & Lagoon project, in which Fu allegedly made a profit of more than NT$166.7 million (US$5.49 million).
Fu, an independent, is closely aligned with the Chinese Nationalist Party (KMT) and was a member of the People First Party from 2000 to 2007.
The Hualien District Prosecutors' Office said that Fu and Yen used political pressure and threats to force Liang Ching-cheng (梁清政), the project's original proprietor, to sell a 66.1-hectare plot of land in the county's in Shoufong Township (壽豐) below its market price to Taipei-based Rong Liang Real Estate (榮亮實業), which in turn sold it to another property developer and made a profit of NT$166.7 million, Hualien County head prosecutor Kuo Yu-fang (郭瑜芳) said.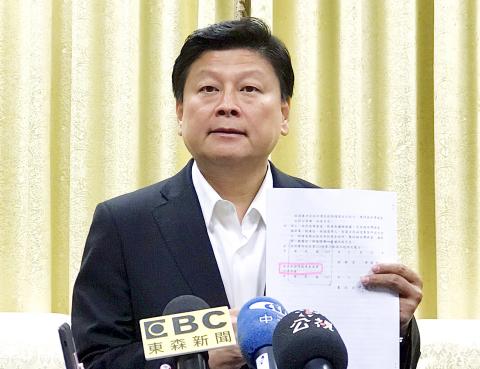 Hualien County Commissioner Fu Kun-chi denies tax evasion accusations at a news conference in Hualien County yesterday.
Photo: CNA
The real-estate company failed to report the actual amount of the transaction, and Fu and Yen made false statements to judicial officers investigating the case, Kuo said.
Prosecutors said that Fu is the real owner of Rong Liang Real Estate, which was founded in 2006, and his wife, KMT Legislator Hsu Chen-wei (徐榛蔚), previously served as company chairwoman.
The company's initial capital came from Hsu's family, along with financial backing from Fu.
"Fu was found to be the owner of Rong Liang Real Estate and the man who directed its business and made the major decisions. The company's financial accounting and money transfers were directed by Fu or members of his family, while the paperwork was handled by Fu's assistants and county government staff," Kuo said.
"During the investigation, Fu gave false statements in an attempt to hide the fact that he is the company owner. During last year's court hearing, Fu denied he was the owner of the company. Therefore, along with tax evasion charges, Fu is being indicted on perjury charges," Kuo said.
As for charges Liang had filed, Hualien prosecutors in September last year dropped the corruption charges against Fu, citing insufficient evidence, but pressed tax evasion charges against Pao Kuang-ting (鮑廣廷), the man registered as the owner of Rong Liang Real Estate.
Liang filed an appeal, with the Hualien branch of the Taiwan High Prosecutors' Office ordering Hualien district prosecutors to conduct another investigation, which resulted in yesterday's indictments.
Fu called the charges "political persecution."
Comments will be moderated. Keep comments relevant to the article. Remarks containing abusive and obscene language, personal attacks of any kind or promotion will be removed and the user banned. Final decision will be at the discretion of the Taipei Times.