Tourism Bureau is planning promotions for 'Cinderella Shoe'
The Tourism Bureau is to launch a series of campaigns to boost interest in a "Cinderella Shoe" structure in Chiayi County, a tourist attraction that has been losing its appeal.
The installation in Budai Township's (布袋) Ocean View Park was built to commemorate blackfoot disease, which was a scourge of coastal areas in Yunlin, Chiayi and Tainan counties in the 1950s, causing gangrene that cost many patients one of their feet.
The 17.76m tall, 11.91m wide and 25.16m long shoe made from 320 panes of blue-tinted glass has been nicknamed the "High-Heel Chapel" because it was intended to serve as a location for wedding photographs.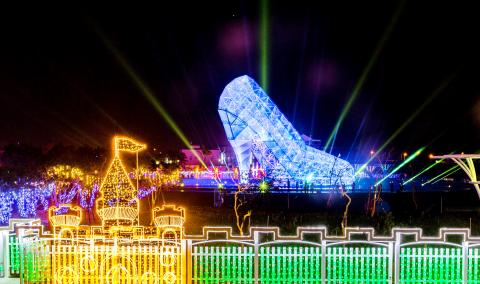 The "Cinderella Shoe" installation is pictured in Budai Township's Ocean View Park in Chiayi County on May 5.
Photo: CNA
Soon after it was built in February last year, it reportedly drew 200,000 visitors over the five-day Lunar New Year holiday.
Later in the year, the structure was granted Guinness World Record certification as the world's largest structure shaped like a high-heeled shoe.
However, the number of visitors to the site has dropped sharply from an average 200,000 per month in spring to 140,000 in summer, the bureau said.
"It is surprising to see that the structure has lost its appeal so fast," said Wu Chun-chieh (吳峻傑), an official at the bureau's Southwest Coast National Scenic Area Administration that built and manages the structure.
Efforts to attract private operators have also been unsuccessful, he said.
Even though the annual rent is only NT$1.7 million (US$56,655), there have been no tenders to operate the wedding venue or the 12 shopping booths, Wu said.
The agency plans to upgrade the facilities and services, and launch a series of promotions in a bid to revive interest in the structure, he said.
Meanwhile, Ocean Hotel, which is about 15 minutes walking distance from the structure, has not seen any significant drop in business as a result of the shoe's waning popularity.
The three-star hotel, once a visitor service center, said it is more worried about slow business on weekdays.
The hotel, which is to start formal operations next month after a 13-month trial run, said it is usually fully occupied on weekends and public holidays, but is only about 30 to 50 percent full on weekdays.
Comments will be moderated. Keep comments relevant to the article. Remarks containing abusive and obscene language, personal attacks of any kind or promotion will be removed and the user banned. Final decision will be at the discretion of the Taipei Times.