ANALYSIS: Lin's departure aimed at midterm polls
ELECTIONS: The chairman of the Taiwanese Public Opinion Foundation said the public has been critical of most of the major policies that Lin Chuan introduced
The resignation of Premier Lin Chuan (林全) on Monday and the appointment of Tainan Mayor William Lai (賴清德) to replace him followed steadily declining approval ratings for the government and was clearly aimed at leading the administration through the midterm elections next year.
The approval rating for Lin's Cabinet was as low as 28.7 percent in a survey by the Taiwanese Public Opinion Foundation released on Aug. 16, while 59.7 percent of the respondents disapproved of the Cabinet's performance.
Tsai's approval rating also fell last month to 29.8 percent, her lowest in the foundation's polls since she took office in May last year.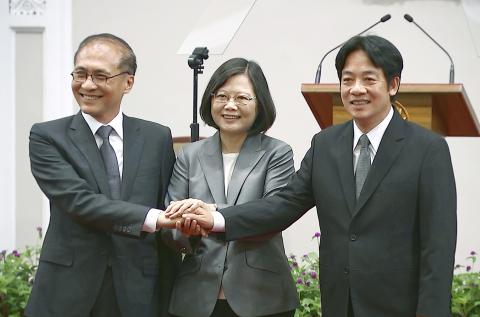 President Tsai Ing-wen, center, holds hands with Premier Lin Chuan, left, and Tainan Mayor William Lai at the Presidential Office in Taipei yesterday after announcing that Lai would succeed Lin as premier on Friday.
Photo: Johnson Lai, AP
Lin's resignation was no surprise after months of speculation as the main function of his Cabinet was widely understood to be to lead the administration through a transitional period and introduce reform policies that were sure to provoke heated opposition.
In his resignation letter, Lin wrote that he had defined the priorities for his Cabinet as "innovation, employment and [wealth] distribution," and he had completed the short-term goals dictated by those priorities, which included the "five plus two" innovative industries development plan, the long-term care service 2.0 package, social housing plans, a renewable energy development blueprint, the Forward-looking Infrastructure Development Program and a tax reform package.
His resignation should "smooth the president's appointments plan" so a more politically minded person should succeed him to prepare for the next year's mayoral and councilors elections, Lin said on Monday.
His words highlighted the weakness of Lin and his Cabinet, in addition their failures in policymaking: a policy-oriented technocratic government with little political leadership or connections that lacked support from the public or even from within the Democratic Progressive Party (DPP).
Lin's Cabinet began to lose public support a few months after it was sworn in, largely due to its inability to put forward effective measures to stimulate the economy, foundation chairman You Ying-lung (游盈隆) told the Taipei Times yesterday.
"The public has come to feel that the Tsai administration is not much different from former president Ma Ying-jeou's (馬英九) in terms of economic performance," You said.
"Lin's economic policy platform was based on creating jobs and distributing wealth evenly, but there is no element of growth," You said.
The infrastructure stimulus package was probably not what Lin had intended, but one that was imposed on him, You said.
The public was critical of most, if not all, major policies Lin introduced, especially an amendment to the Labor Standards Act (勞動基準法) that stipulated a five-day workweek with one mandatory day off and one flexible day off and required employers to pay overtime if they ask employees to work on their flexible day off, You said.
The fallout from that amendment dealt a huge blow to Lin's Cabinet as it was criticized by businesses and labor groups, as well as traditional DPP supporters, he said.
Lin also failed to build a strong support base in the pan-green camp, and "deep-green" DPP members and members of pro-independence groups such as former national policy advisers Wu Li-pei (吳澧培) and Koo Kwang-ming (辜寬敏) called for his resignation and for the replacement of his "old, [pan-]blue and male" Cabinet.
Lin distanced himself from DPP factions after the collapse of a subgroup loyal to former president Chen Shui-bian (陳水扁), who brought Lin into politics, resulting in the premier fighting a lone and uphill battle, National Sun Yat-sen University political science professor Liao Da-chi (廖達琪) said.
His "apolitical" character had worried city and county-level DPP politicians who have next year's elections in mind, which contributed to the Cabinet reshuffle, Liao said.
Meanwhile, Tsai's appointment of Lai as to be premier was aimed not only at regaining public support, but preempting a possible bid by Lai for the 2020 presidential election.
A Cabinet led by Lai is seen as an "election Cabinet" to lead the DPP administration through next year's midterm elections, but observers said he is likely to face many challenges especially in terms of his interactions with Tsai.
One priority would appear to be revising the oft criticized new workweek policy to minimize its consequences on next year's polls, and Lai said in a radio interview in July that a revision would be necessary as he had heard many businesses complaining about the policy.
Lai will have to come up with solutions to the problems with the national power grid in the wake of blackouts nationwide that occurred on Aug. 15, as well as more pension plan and tax reforms, the execution of the Forward-looking program's budgets and legislation to legalize same-sex marriage.
Cross-strait relations, although not usually seen as within a premier's purview, could also pose a challenge for Lai, who has recently talked about "building affinity with China while loving Taiwan," even though he is usually considered pro-Taiwan independence.
His interactions with Tsai will be key to the success of his Cabinet.
"Under the current system, the premier is like the secretary-general of the president, and it has been the fate of premiers to be a presidential scapegoat," Liao said.
While Lin complied with most of Tsai's instructions, Lai is apparently not a complying type, and conflicts between the Presidential Office and the Executive Yuan could be likely, Liao said.
The potential discord between Tsai and Lai, coupled with the hostility against Lai's New Tide faction in the DPP, could also lead to frictions between the Cabinet and Legislative Yuan, she said.
A possible solution lies in Tsai's hands if she would be willing to restrict her role to strictly constitutional presidential powers — national defense, foreign relations and cross-strait relations — and hand over domestic administration to Lai, You said.
Should Tsai refuse to soften her grip on the Cabinet, Lai is going to have to make a good use of his political skills to gain more autonomy in decisionmaking, You said.
"He cannot simply be a 'yes man,' which would spell his doom," You said.
Lai's interaction with the legislature is also going to be important.
Lai, a physician-turned-politician has been known for a dominant leadership style.
He stood up to the Tainan City Council for almost seven months in 2015, refusing to appear at council meetings while then-council speaker Lee Chuan-chiao's (李全教) was facing bribery charges.
Lai will not be able to bridge the gap between the Executive Yuan and the legislature without toning down his hardline stance, Liao said.
A shrewd Lai might be able to pick up where Lin left off, revive the Tsai administration's popularity and still advance his political ambitions.
Lin is scheduled to lead the Cabinet to resign en masse tomorrow and Lai to succeed him on Friday.
Comments will be moderated. Keep comments relevant to the article. Remarks containing abusive and obscene language, personal attacks of any kind or promotion will be removed and the user banned. Final decision will be at the discretion of the Taipei Times.