Taiwanese film trio named best actor, actress, producer
Taiwanese actress Tiffany Hsu (許瑋甯), actor Chris Wu (吳慷仁) and producer Tseng Han-hsien (曾瀚賢) on Saturday won the Asia-Pacific Producers Network's (APN) best actress, actor and producer awards.
The APN is a network initiated by South Korean film producers in 2006 to promote cooperation among film production industries in the Asia-Pacific region.
This year, about 45 film producers and directors from outside Taiwan, including from Japan, China, South Korea, Singapore, Malaysia and New Zealand, joined their counterparts from Taiwan at the APN's annual meeting in Taoyuan.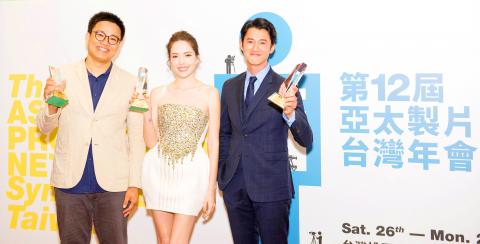 From left, producer Tseng Han-hsien, actress Tiffany Hsu and actor Chris Wu pose with their Asia-Pacific Producers Network's awards in Taoyuan on Saturday.
Photo: CNA, courtesy of Joint Movies
Each year at the meeting, which is held in rotation among member nations, the network recognizes an actress and actor from the host country to recognize outstanding performances.
This year, a producer was included in the awards.
"It is an honor to be here. Thank you for giving me this award," said Hsu, who won the best actress award at the Taipei Film Awards last year for her role in the horror film The Tag-Along (紅衣小女孩).
In his acceptance speech, Wu, who won last year's Golden Bell best actor award for his performance in the TV series A Touch of Green (一把青), said he would continue to make films and "work hard to become an actor known in all of Asia and the world."
Tseng, founder of Greener Grass Production who produced films such as The Tag-Along and Wake Up 2 (麻醉風暴2), said producers in Taiwan face a difficult environment and he hopes to help others through his own experience.
Tseng said that all of his story ideas come from Taiwan, which he said is facing major changes to its social structure.
"Taiwan enriches us. It is our muse," he said.
Earlier in the day, forums were held to discuss film coproductions in the Asia-Pacific region and Taiwanese film subsidies.
Bureau of Audiovisual and Music Industry Development official Yang Hsiu-yu (楊秀玉) said the government helped overseas filmmakers shoot more than 240 films and TV productions in Taiwan last year.
Taiwan is an ideal place for shooting films because it has diverse landscapes, from mountains and valleys to hills, and they can be reached within a day from Taipei, saving a lot of time for film crews, Yang said.
Comments will be moderated. Keep comments relevant to the article. Remarks containing abusive and obscene language, personal attacks of any kind or promotion will be removed and the user banned. Final decision will be at the discretion of the Taipei Times.