Groups back 2020 name change push
NOT 'CHINESE TAIPEI': Politicians and others attended a news conference where the director for the Taiwan 2020 Campaign Council in Japan spoke about its efforts
A coalition of pro-localization groups yesterday gave their support to a Japanese petition to change the title of Taiwan's national sports team from "Chinese Taipei" to "Taiwan" for the Tokyo Olympics in 2020, which they said would be part of the name rectification and independence movement.
The Tokyo-based Taiwan 2020 Campaign Council has collected nearly 100,000 signatures on a petition asking the Japanese Diet to allow Taiwan's national team take part in the 2020 Games under the name "Taiwan."
Council director Nagayama Hideki told a news conference in Taipei that Japanese were "forever indebted" to Taiwan for the nation's support after Tohoku earthquake and tsunami in 2011.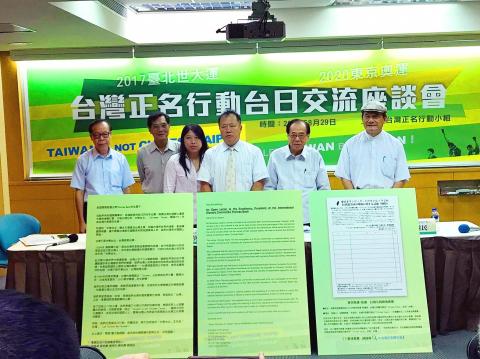 Representatives of pro-independence groups in Taipei yesterday display blow-ups of an open letter calling for Taiwan to be allowed to attend the 2020 Tokyo Olympics under the name "Taiwan" instead of "Chinese Taipei."
Photo: Peng Wan-hsin, Taipei Times
"Why do we support Taiwan? Because Taiwan and Japan are brothers," he said. "Although Taiwan stands isolated, our campaign is to let Taiwanese understand that they are not fighting alone."
He showed video clips of council members and supporters campaigning on the streets of Tokyo at the news conference.
Taiwan Solidarity Union Chairman Liu Yi-te (劉一德) said the party collected 1,500 signatures at an event earlier this month calling for such a name change, adding that he felt ashamed by the indifference shown by Taiwanese to the issue compared with Japanese.
Lee Teng-hui Association for Democracy standing director Chang Tsan-hung (張燦鍙) said the nation's teams have participated in the Olympics under the names "Taiwan," "Formosa" and "Republic of China," but delegations also withdrew from several Olympics due to title controversies until the term "Chinese Taipei" was adopted in 1981.
An opinion poll published last year showed only about 9 percent of Taiwanese support the name "Chinese Taipei," Chang said.
International Olympic Committee (IOC) rules define participating teams as delegations of individual Olympic committees, not national representatives, so Taiwan's Olympic teams should be allowed to use the name "Taiwan," he said.
If an amendment to the Referendum Act (公民投票法) to lower the threshold for launching and approving a referendum passes the legislature as expected by the end of this year, a petition should be launched to pressure the government to clarify its stance on the name change, Chang said.
Taiwanese are more nonchalant than Japanese about the change initiative, but during the Taipei Summer Universiade, Taiwanese have began to see the importance of a proper name, Taiwan Radical Wings Party deputy secretary-general Joyce Lin (林春妙) said.
"Taiwanese are lacking political and nationalist sensitivity, which is what we have to work on. If Taiwan should become a new independent nation, it should start with name rectification. The rectification is not for the ROC [Republic of China], but to break up the [ROC] system to work for a new constitution and national independence," Lin said.
World United Formosans for Independence chairman Chen Nan-tien (陳南天) said the name change campaign would be a part of the name rectification movement and should continue after the Universiade wraps up today.
Taiwan United Nations Alliance director Michael Tsai (蔡明憲) said "Chinese Taipei" is an unjustifiable term, and the Japanese initiative shows the people's support for Taiwanese independence and transitional justice.
The groups plant to deliver an open letter to the IOC and Taiwanese sports authorities to petition for the name change.
Comments will be moderated. Keep comments relevant to the article. Remarks containing abusive and obscene language, personal attacks of any kind or promotion will be removed and the user banned. Final decision will be at the discretion of the Taipei Times.