Taipei autonomous bus tests are just the start
HIGH STAKES: Some stakeholders believe Taiwan could function as an equipment manufacturer, while others work to realize the dream of locally developed vehicles
It may be 3am, but 55-year-old Ou Hsiu-chu (歐秀珠), warden of Zhuan Borough (住安) in Taipei's Daan District (大安), is wide awake, scribbling notes and taking photographs of an orange-and-white vehicle the size of a minivan easing its way down an exclusive bus lane on Xinyi Road in Taipei.
She is monitoring the first tests of a driverless bus by Taipei authorities in her borough. The French-made vehicle only carries up to 12 passengers and operates at a tortoise-like 10kph, and Ou is not totally sold.
"I am not sure about driverless buses for now because I have not seen enough evidence that shows they are safe under less controlled circumstances," Ou said after taking a five-minute test ride at the city's invitation.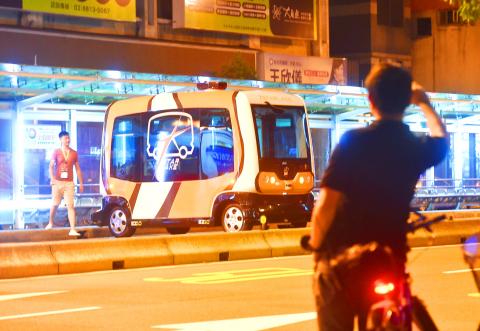 A driverless bus travels along Taipei's Xinyi Road in the small hours of Aug. 1 during a trial run of the nascent technology.
Photo: Fang Pin-chao, Taipei Times
However, the tests did demonstrate the vehicle's ability to accurately detect environmental conditions on a Taipei street — a breakthrough in Taiwan's push for smart vehicle development.
People in academia, and in the public and private sectors, generally agree that this artificial intelligence (AI)-powered industry is worth pursuing, because Taiwan is strong in information technology, and has a well-established supply chain and local talent devoted to the field.
Once demand is created under the government's strategic guidance, Taiwan could become a major player in driverless car technology worldwide, raising its profile as a knowledge-based economy to attract foreign investment, sources said.
However, the reality is more complicated.
Despite the general optimism, reactions to the tests revealed friction between different stakeholders over driverless car goals and strategies.
Taipei sees autonomous vehicles as a way to improve the quality of life of its residents, but also as a ground for competition on the innovation front with other Taiwanese cities planning to run similar trials.
In the near-term, "the goal is to have all the driverless bus-related technologies and infrastructure tested to see how it fits onto our streets within one year," Taipei Department of Information Technology Director Lee Wei-bin (李維斌) said.
Longer term, the city hopes driverless buses could operate alongside regular buses to meet passenger demand at specific times, such as late at night or during rush hour, Taipei Deputy Mayor Lin Chin-rong (林欽榮) has said.
While the city government is hoping to take the lead in developing an advanced transportation system, 7Starlake Co president Martin Ting (丁彥允), whose company represents the French maker of the vehicle used in the test, is eying its market potential and the opportunities it could create for Taiwan to link up with the world's AI sector.
Ting said the most pressing issue following the test was to solicit greater resources for the industry, so that manufacturers like 7Starlake do not miss out on a market that could determine the nation's economic future.
Taiwan is well-positioned in driverless car development, because it is already capable of producing key components of the vehicle, such as its IT panels, routers, motors and battery management systems, Ting said.
Ting was optimistic that half of the components used in the vehicle made by France's EasyMile could be supplied and assembled in Taiwan within the next 12 to 18 months, creating a driverless-car supply chain.
Ting's vision is possible and practical, said Chen Cheng-foo (陳正夫), a former senior general manager of Hua-chuang Automobile Information Technical Center Co, which has been deeply involved in Taiwan's driverless car development.
However, the business model Ting described would not benefit the country much, unless it can eventually develop its own research, development and service capabilities to keep from simply becoming an original equipment manufacturer for other countries, Chen said.
"The reason to invest in driverless cars is to drive the industry," he said. "My advice is that the government should take initiative to create a clear policy framework, so that all the talent and resources can be integrated."
The government should also help define a niche market for the cars to make the industry sustainable, Chen added.
In academia, people are trying to do as Chen suggests and demonstrate Taiwan's ability to create its own "smart" vehicle.
National Taiwan University (NTU) Mechanical Engineering Department assistant professor Li Kang (李綱) is a key member of the university's driverless car development program, which is partnering with the Industrial Technology Research Institute.
Li said the school is trying to prove that the driverless bus it is developing independently can be just as competitive as the EasyMile model.
NTU and other schools are also partnering with Ting and his company, but with seemingly different objectives.
The NTU department thinks studying the French bus could help it with its own research, while Ting would like help in adjusting the parameters of the French vehicle to react better to the local environment.
Beyond the difference in goals and strategies, almost all involved pointed to existing regulations as the biggest obstacle to the industry's development in Taiwan.
The main complaint was that prototype cars are prohibited from conducting tests in more complex environments to learn through the collection and analysis of data.
In response to the criticism, the Ministry of Transportation and Communications said the level of intelligence of autonomous vehicles remains unclear, which makes it difficult, for example, to draft standards for vehicle safety certification.
"The Xinyi Road test shows that this car can only operate extremely slowly in a highly controlled environment," said Lee Chao-hsien (李昭賢), a specialist at the ministry's Department of Railways and Highways.
"This is a far cry from the traffic reality in Taipei, you know that," he said, adding that the ministry is nonetheless open-minded on the issue and is gathering information on how other countries regulate the driverless car industry.
Li said that unless regulations are loosened to allow autonomous vehicles to access more complicated environments to learn by themselves, significant progress in the development of AI-driven vehicles would be impossible.
To facilitate dialogue among the national government, industry and academia on the subject, Chinese Nationalist Party (KMT) Legislator Hsu Yu-jen (許毓仁), a long-time advocate of autonomous vehicle development, has vowed to establish a bipartisan alliance this year.
However, Li believes public trust in the system is key to whether it could take off in Taiwan and he cautioned stakeholders not to promise more than what the cutting-edge technology can actually do.
"The tests we have seen recently are at a preliminary stage, and we need better infrastructure and step-by-step adjustments," he said.
This is what Taipei intends to focus on next.
The city plans to apply for a specific frequency range and use that as a channel for traffic lights to send signals to smart vehicles.
This way, vehicles could receive confirmation of a stop signal from another source, which would enhance their capability to react accurately to traffic lights — a variable not included in the first five-day test.
Comments will be moderated. Keep comments relevant to the article. Remarks containing abusive and obscene language, personal attacks of any kind or promotion will be removed and the user banned. Final decision will be at the discretion of the Taipei Times.