Blackouts: Opposition blasts Lin, power firms
The Chinese Nationalist Party (KMT) caucus yesterday demanded that CPC Corp chairman Derek Chen (陳金德) and Taiwan Power Co (Taipower) officials step down to take responsibility for Tuesday's blackouts that affected 6.68 million homes and offices nationwide.
The caucus also demanded that Premier Lin Chuan (林全) brief lawmakers about the government's energy policy and how it plans to ensure steady power supply, or resign.
The power failure is the most severe since 1999, affecting not just households, but also companies in the Jhunan Science Park and Tai Yuen Hi-Tech Industrial Park in Hsinchu County, KMT caucus secretary-general Lin Wei-chou (林為洲) told a news conference at the legislature.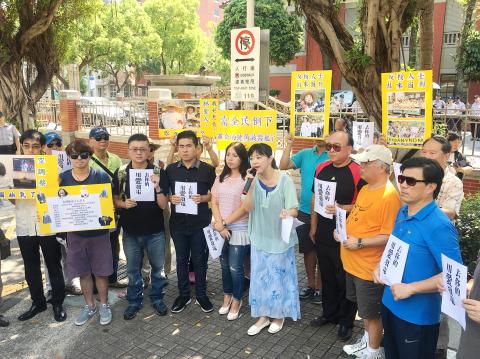 New Party members stage a protest in front of the Legislative Yuan, demanding that President Tsai Ing-wen and Premier Lin Chuan step down to take responsibility for the nationwide blackouts on Tuesday.
Photo: Cheng Hung-ta, Taipei Times
The KMT is being "nice" to Lin Chuan by offering him a chance to make a presentation instead of asking him to step down, Lin Wei-chou said.
The KMT respects the Democratic Progressive Party's (DPP) stance against nuclear energy, but the DPP administration should propose accompanying measures to assure the public that would be no power cuts, outages and rationing before 2025, when the DPP expects to attain its goal of a "nuclear-free homeland," he said.
Minister of Economic Affairs Lee Chih-kung (李世光) was a scapegoat for Tuesday's technical error that caused the Datan Natural Gas Power Plant to temporarily go offline, KMT caucus vice secretary-general Wang Hui-mei (王惠美) said, demanding that Chen resign.
"Chen said that he would take full responsibility for the power failure, but all he has done is order that an investigation be launched, which shows that he is clinging on to his post," Wang said.
She accused DPP caucus whip Ker Chien-ming (柯建銘) of naming his secretary as the chief director at Lee's office, where several other DPP lawmakers have also embedded their secretaries to influence the ministry's policies, making Lee the DPP's "puppet."
"No wonder the nation's economic policies have faltered. No wonder the power supply was hindered," she said.
Wang said the public suffered losses of at least NT$2 billion (US$65.9 million), urging President Tsai Ing-wen's (蔡英文) administration to offer compensation to people affected by the power outages.
KMT Legislator John Wu (吳志揚) echoed Wang's remarks, calling on the government to allow food stalls, technology firms and people injured due to failing traffic signals to apply for compensation.
Tuesday's incident was allegedly caused by human error, which shows that the nation's power supply network is so vulnerable that it has become a national security issue, Wu said.
"Apologizing will not stop entrepreneurs from leaving Taiwan after yesterday's [Tuesday's] incident, nor will it solve problems faced by ordinary users," KMT vice secretary-general Lee Yen-hsiu (李彥秀) said.
Tsai and Lin Chuan should explain the nation's energy policy before proposed budgets for the Forward-looking Infrastructure Development Program are reviewed in the extraordinary session, she said.
"Without safe and steady power supply, there cannot be a forward-looking program, since the program includes many projects to build rail systems and develop innovative sectors," she said.
Meanwhile, members of the New Party rallied in front of the legislature, demanding that Lin Chuan step down over the outages.
Lin Chuan said in an interview on Friday last week that Taipower can "forget about" its plans to resume work on the Fourth Nuclear Power Plant in New Taipei City's Gongliao District (貢寮) and delay the decommissioning of the Jinshan, Guosheng and Maanshan nuclear power plants, New Party spokesman Wang Ping-chung (王炳忠) said.
The president on Tuesday offered an apology on Facebook, blaming the outages on "vulnerable" power grids and pledged to establish independent power plants that supply "green" energy.
However, both Lin Chuan's and Tsai's remarks evaded the problem of insufficient energy reserves, which was the core issue with the nation's energy supply and the main reason behind Tuesday's blackout, Wang said.
Comments will be moderated. Keep comments relevant to the article. Remarks containing abusive and obscene language, personal attacks of any kind or promotion will be removed and the user banned. Final decision will be at the discretion of the Taipei Times.