Air force teacher honored for logging 11,800 flight hours on trainer plane
A Republic of China (ROC) Air Force flight instructor has broken an air force record by logging 11,800 hours in a single type of training aircraft, the T-34 propeller plane, the air force said yesterday.
The ROC Air Force Academy is the only institution within the force that employs civilian pilots, as instructors need to be experienced to guide trainees through all the situations they could encounter during flight and determine whether they are suited to fly, the air force said.
As officers frequently need to be transferred to accumulate qualifications, the academy tends to hire some retired officers as instructors, allowing the academy to meet its training needs while also giving retirees the opportunity to share their experience, it added.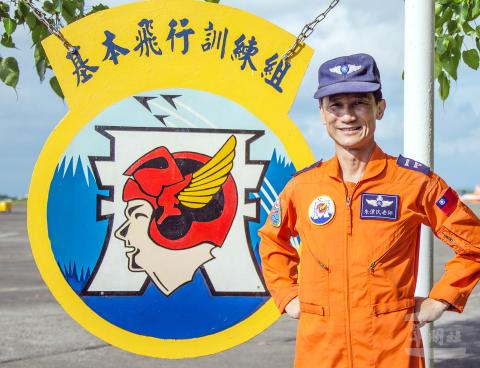 Air Force flight instructor Chu Wei-min stands by a sign that reads "basic flight training unit" in Kaosiung in an undated photograph.
Photo courtesy of Military News Agency
Chu Wei-min (朱偉民) graduated with the academy's 66th class in 1985, a military press report said yesterday, adding that he began teaching at the academy in 1990.
After retiring from the academy in 1996, Chu was rehired as a civilian contractor and has been teaching for the academy on contract ever since, the report said.
Chu has taught at the academy for more than 27 years and helped train more than a 100 pilots, it added.
Chu spends most of his days in an orange flight suit adorned with the words "Instructor Pilot," taking two to three groups of trainees up in the air each day.
As a civilian instructor Chu accumulates about two to three times the flight hours active soldiers make, the air force said, adding that he logs an average of 400 hours per year.
Beechcraft, the manufacturer of the T-34, rewarded Chu with a certificate earlier this year in recognition of the 10,000 hours he had spent piloting the company's aircraft.
Comments will be moderated. Keep comments relevant to the article. Remarks containing abusive and obscene language, personal attacks of any kind or promotion will be removed and the user banned. Final decision will be at the discretion of the Taipei Times.