DPP accused of Facebook censorship
TEMPORARY SUSPENSIONS: Politicians and online personalities said they had been denied access to their Facebook accounts after writing criticisms of DPP policy
The National Policy Foundation, a Chinese Nationalist Party (KMT) think tank, yesterday said that the Democratic Progressive Party (DPP) government might have clamped down on dissidents by allegedly suspending Facebook users who posted comments deemed harmful to the pan-green political camp.
"Facebook has entered a period of 'Green Terror' in Taiwan since the DPP took office," foundation chief executive officer Sun Lih-chyun (孫立群) told a news conference in Taipei.
For example, an article by former Straits Exchange Foundation secretary-general C.V. Chen (陳長文) likening the Executive Yuan's tightening of regulations on retired government and military officials' visits to China to the reinstatement of Article 100 of the Criminal Code was temporarily removed by Facebook, Sun said.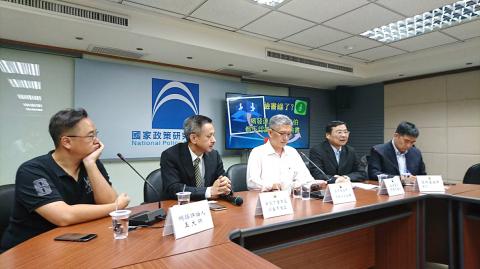 Chinese Nationalist Party (KMT) Legislator-at-large William Tseng, second right, yesterday in Taipei speaks at a news conference held by the National Policy Foundation, the party's think tank.
Photo: Chen Yu-fu, Taipei Times
The now-defunct law stated that those who conspire to undermine the government, subvert state sovereignty or occupy state-owned land faced a maximum prison term of five years, with the chief conspirator sentenced to life.
Law enforcement bodies abused the article during the White Terror era to arrest dissidents that opposed the government.
There have been other incidents in which Facebook users who criticized President Tsai Ing-wen's (蔡英文) administration were suspended or had their posts removed, Sun said.
Facebook users in the pan-green camp who had seen content removed by Facebook for criticizing the opposition camp should come forward to prove that Facebook has not been targeting pan-blue users, he said.
Greater Taipei Stability Power Alliance chairman Sun Chi-cheng (孫繼正), who launched a petition to depose New Power Party (NPP) Executive Chairman Huang Kuo-chang (黃國昌) over Huang's support for homosexual marriage, said he had been suspended by Facebook four times in one day after posting an article about ousting Huang.
Sun Chi-cheng said that in an attempt to find out whether he was targeted, he borrowed his friend's Facebook account and posted the article again on the same device and was quickly suspended, suggesting that the government might have tracked down and banned his IP address from Facebook.
He said that he finally reclaimed his account after he sent a letter to Facebook's headquarters asking the company to fire the owner of its Taiwanese partner, a company named cacaFly (聖洋科技).
Internet celebrity Master Wang (王大師) said that he on Monday posted an article on Facebook criticizing the Tsai administration's policy on currency exchange rates, in which he referred to Taiwanese as Taibazi (台巴子), a derogatory term, and was suspended, while his article was removed.
He has been on Facebook since 2011 when Ma Ying-jeou (馬英九) was president, but had never encountered such a situation when he criticized the KMT during Ma's term, Wang said.
CacaFly immediately after the news conference said in a statement that it is only responsible for selling advertising rights on Facebook.
Foundation convener Yeh Ching-yuan (葉慶元) asked whether the removal of Facebook articles was part of the Cabinet's efforts to curb online "fake news," and whether comments that the DPP administration dislikes were all categorized as fake news.
Sun Lih-chyun urged Executive Yuan Spokesman Hsu Kuo-yung (徐國勇) and the National Communications Commission (NCC) to explain the apparent surge in Facebook censorship.
Comments will be moderated. Keep comments relevant to the article. Remarks containing abusive and obscene language, personal attacks of any kind or promotion will be removed and the user banned. Final decision will be at the discretion of the Taipei Times.