'Tangut Inn' translation praised
FIDELITY: A London-based literature promoter lauded NTU academic Ku Ping-ta's evocative translation of the author's original work in a Renaissance style as inspired
Assistant professor Ku Ping-ta (辜炳達) has been awarded the PEN Presents - East and Southeast Asia award for his Chinese-to-English translation of Luo Yi-jun's (駱以軍) Tangut Inn (西夏旅館).
Founded in 1921, English PEN is a London-based organization which aims to promote and defend freedom of expression in literature. Its translation awards aim to promote books from around the world to publishers.
Ku, 32, an adjunct assistant professor of English literature at National Taiwan University, was awarded £250 (US$321) for his translation of Luo's first book, becoming the first non-native English speaker to be awarded the prize.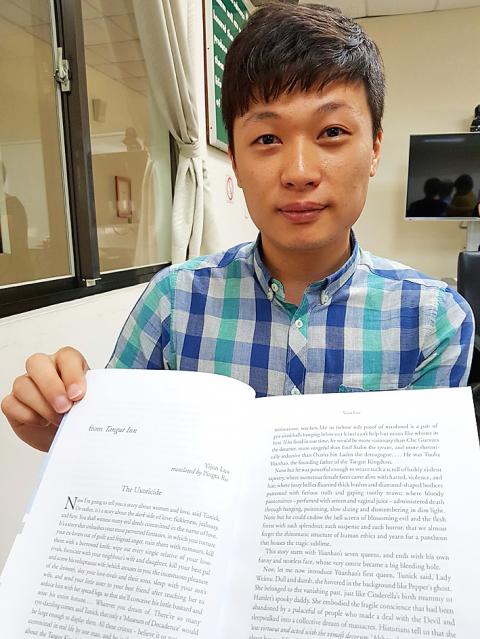 National Taiwan University assistant professor Ku Ping-ta shows his translation of writer Lou Yi-jun's novel Tangut Inn during a visit to his alma mater National Sin-Ying Senior High School in Tainan on Tuesday after winning the English PEN Presents - East and Southeast Asia award for translation.
Photo: Wang Han-ping, Taipei Times
Tangut Inn is the first Chinese-language novel to win a Pen Presents award in Taiwan.
Ku's decision to translate Tangut Inn in a style evocative of the Renaissance was inspired, the panel said.
The melange of literary styles used in the original work would have made it a challenging text to translate, it added.
Ku said he came to realize when he was doing his doctoral thesis that many Taiwanese novels could achieve international recognition if they were translated into English.
Luo is one of Taiwan's best writers and deserves international recognition, Ku said, adding that Tangut Inn is one of his finest works.
To translate the novel, Ku said he contacted Luo through social media and met to convince him to authorize a translation.
Ku began the translation work after receiving a National Museum of Taiwan Literature grant in 2014.
Tangut Inn has 240,000 characters and Ku completed the translation last year, he said.
"My greatest concern was fidelity to the author's text, but the panelists' response tells me my worries were undue. Now my greatest concern is finding a publisher. A journal has picked up the translated work, which is in the British Library," Ku said.
It is difficult to find translation work because non-native speakers are often overlooked, Ku said.
It is frustrating that in spite of accruing more than a decade of academic experience studying English literature, I am still considered a non-native English-language speaker, he added.
"I believe there is no shortage of good translators in Taiwan, but the nation's publishing environment is not friendly toward translators overall," Ku said.
Many publishers have a superstitious belief in foreigners' ability to translate Chinese into other languages and the pay for translators is also significantly lower in Taiwan than in the US or the UK, he said.
Taiwanese publishers pay between NT$0.6 and NT$1 per word for English-to-Chinese translations, while US and UK publishing houses pay more than NT$4.5 per word, which makes working on long texts like Tangut Inn a daunting task, Ku said.
Taiwan's universities do not treat translations as academic publications and academics have to wait until they are free of tenure fears before they can begin translating texts, Ku said.
Comments will be moderated. Keep comments relevant to the article. Remarks containing abusive and obscene language, personal attacks of any kind or promotion will be removed and the user banned. Final decision will be at the discretion of the Taipei Times.